This review page is supported in part by the sponsors whose ad banners are displayed below



Reviewer: Srajan Ebaen
Financial Interests: click here
Source: Apple iMac 1TB with OSX 10.6.5, Pure Music 1.74 in hybrid memory play with pre-allocated RAM, AIFF files up to 24/192, Burson Audio HA160D as DAC, Weiss DAC2; iPod Classic 160GB (AIFF), Pure i20 digital-direct dock
Preamps: Esoteric C-03 (transistor), Bent Audio Tap-X (AVC passive), ModWright LS100 (tubes)
Integrated amplifiers: Bel Canto Design C5i, Dayens Ampino
Amplifiers: FirstWatt J2 & F5, ModWright KWA-100 SE, Trafomatic Audio Kaivalya
Loudspeakers: era design SAT5, Mark+Daniel Mini+, Dayens Tizo+ [on loan], Amphion Helium 510 and Impact 400 [on loan]
Cables: Complete looms of ASI Liveline, Crystal Cable Ultra, Zu Audio Event; ALO Audio; Musical Wire; Entreq Challenger USB and Firewire cables, Black Cat Cable Veloce [on loan]
Stands: 2 x ASI HeartSong 3-tier, 2 x ASI HeartSong amp stand
Powerline conditioning: 1 x GigaWatt PF-1, 1 x Furutech RTP-6
Sundry accessories: Extensive use of Acoustic System Resonators, noise filters and phase inverters
Room size: 5m x 11.5m W x D, 2.6m ceiling with exposed wooden cross beams every 60cm, plaster over brick walls, suspended wood floor with Tatami-type throw rugs. The listening space opens into the second storey via a staircase and the kitchen/dining room are behind the main listening chair. The latter is thus positioned in the middle of this open floor plan without the usual nearby back wall.
Review Component Retails: Complete systems minus source starting below €1.000 - Amphion Helium 410 €699/pr, NuForce uDac €129, NuForce Icon amp €211, NuForce Icon 2 €349, NuForce HDP €449, Amphion Argon

1

€1.399 respectively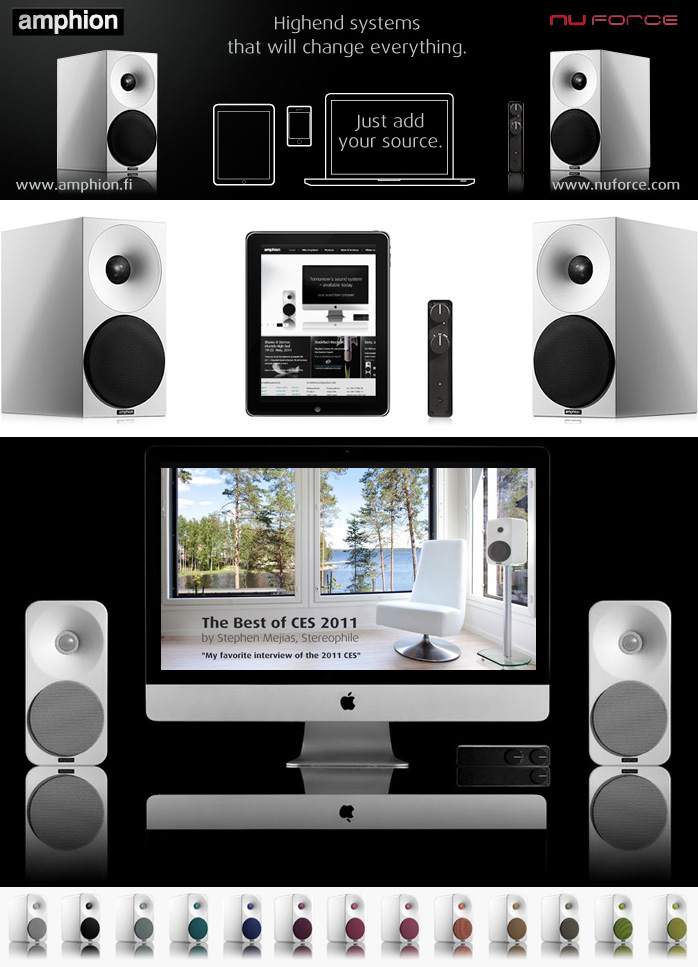 Amphion's Anssi Hyvönen is a man on a mission. Hifi has gotten too expensive, complicated and irrelevant. To counter sick but prevailing trends of $10.000 cables and $100.000 speakers dubbed good value, Anssi has selected NuForce components—Icon and Icon2 integrated amplifiers, HDP DAC/preamp—to showcase designer mini systems which ordinary people can live with and afford. The above collage presents the concept: Apple front ends by way of iPod, iPad, MacBook or iMac; a NuForce integrated with built-in USB converter; and a pair of Amphion two-way monitors with tweeter wave guide. For two-way proof of the pudding Anssi offered his new €699/pr Helium 410 and €1.399/pr Argon

1

monitors, one for desktop and similar den-izenry, the other for serious big-room coverage. I'd also get a $189 NuForce Icon amp, an upgraded $349 Icon2 and for one more upgrade step the $449 HDP DAC/preamp to precede the Icon amp.






I'm in complete agreement with Anssi's general take on the hifi misery. Do me thus was the only option. As the above made clear, all a consumer would have to provide once Amphion and NuForce were done was a source. In my big room that'd be my usual 1TB iMac dedicated to music only. In nerd mode I'd add that it runs OSX 10.6.6 and the PureMusic 1.74 player in hog and memory play modes with pre-allocated RAM.


On the desk top and in the kitchen source duties would fall on my trusty 160GB iPod Classic. It's stuffed to bursting with the same AIFF files as the iMac, simply less of 'em as I'm upward of 10.000 songs.

| | |
| --- | --- |
| | |
| | The Classic would get digitally tapped with Pure's $99 digital-direct i-20 dock. The mission was stylish bonsai audio with more than teapot tempest impact starting at well below a grand for it all. Strapping on my night-vision goggles for a James 'No Mo' Bondage, I was ready for action without the small print. |

As Anssi put it, "class D amps have really come a long way. When people ask us for active speakers, I ask them what amp and DAC. In that field progress continues and things change rapidly. Speakers are set in stone. What you buy today—if you buy the good stuff—remains relevant far into the future. Why muck up that investment with built-in converters and amps that will quickly get outdated when NuForce offers such tidy good-sounding kit for so little? We've spent the last two years overhauling our entire lineup to give people the most possible bang for the buck. We made our speakers compatible with very affordable electronics so you wouldn't need to splurge to get good sound."


One of the thank you notes Anssi received was from a 50-year old woman. "Ions and NuForce rule. And sometimes even enslave. I found music again. Thank you." In the postscript it says "the picture was taken on my trip to India 11/2010 at the sacred Hindu down of Hamp from the temple's pillar. It shows that women in those days (about 14

th

century) mastered the holy craft of dancing." The card arrived in a sewn cloth envelope on hand-made paper. That's what it's about. Put music in regular people's lives where it'll happen in the kitchen or on the patio. Forget selling overpriced trophy goods to obsessive compulsive hardware nuts.


Because Amphion is Finnish, they've got a clear design thing going. As Scandinavians know, the Italians don't have the monopoly on style. With the speakers from Kuopio lines are ultra clean, white is welcome and many models feature cleverly accented metal grills for a dash of décolletage - er, décor. Because grills are easily swapped, such accessorizing is cost effective and reversible. If you get bored, get new grilles not new speakers.


Should you wonder what's up with that dishy depression around the tweeters, it's a proven means to match the radiation resistance between small and big driver. This reduces divergent dispersion patterns at the point where one unit hands over to the other. It's not just clever filter design that's responsible for erasing audible seams between drivers. It's also radiation matching to not suddenly jump from broad coverage to spot-light beaming. That the ear would be rather sensitive to in the region where most two-ways like Amphion's must run their crossover.
The architectural install images from Amphion's website—specific page here—are emblematic of the goal. Watching flicks on the telly, following the news on a kitchen iMac, playing computer games in the den, listening to Internet radio on the balcony... it's all part of modern living. As such a hifi needs to support it.


The days of the stereo man cave are over. Integration and doing more with less is today's name of the game. The high-end tends to segregate. Music over here, video over there and iPod & Co. not allowed in the crib. Amphion's photos show how it can come together simply but effectively. To learn more about computer audio, Jason Lim of NuForce has this page.