This review page is supported in part by the sponsors whose ad banners are displayed below


"• Bass extension must reach lower than it usually does in audio so we may feel the true ambience of being there, the venue of where the music took place.
• Next the musical nuance of the mid and high frequencies should be added atop this solid bass foundation.
• Finally we must refrain from detail overload which can make people nervous and fatigued.



"If I had a huge chassis, I'd use a big transformer for a traditional power supply with pure analog circuitry. That's the ultimate solution. To fulfill my requirements with the Aura Note chassis however, only high-quality class D was suitable. Over the past 7 years I have tried all of B&O's ICEpower modules plus diverse competing solutions. After those 7 years I came across the 250ASX module which finally showed real promise. I first used it in the Eximus S1 where we obtained satisfying results.



"Encouraged I next put it into an Aura Note. But it took more than a year of tuning because available space was so limited. After that hard work we came very close to our goal of increasing power and the purity of the upper bands. Now it should be good enough for most. The earlier 50-watt Mosfet version was leaner. As a direct result it perhaps could have seemed a bit cleaner. But it could not generate a true bass foundation with full control over the woofer/s. Double bass, cello, drums, even the lower range of a piano now all have true power which the earlier version did not. Proper bass is like the four columns of a house. If you build a house on four rigid strong columns, above you can add whatever decorations you wish as long as they're well balanced. This is my view and our achievement for the V2.



"Burn-in is at least 3 days. 3 weeks of normal use will complete the process based on my experience. As you know, we played the Giya G3 at CES. Here in Seoul we've matched the V2 to the Sonus Faber Guarneri Homage, ProAc R2, Davis Acoustics Olympia One, Eggleston Works Andra 3, Magnepan 20.1, Solus Entre, Spendor SA1, Focus Audio, B&W 805 Signature, B&W 800D and more. The only one which proved beyond the full grasp of the V2 was the Magneplanar MG 20.1. Except for that model I encountered no real issues with any of the others. So I'm inclined to tell people to stop worrying about the speaker. Just buy the one you can afford and be happy. I soon plan on visiting Davis Acoustics in France to tune whichever of their models best matches our V2 on price and performance."



Less = more in action. How to do the same with more is shown above. A ProJect Dock Box S Digital iPod dock sends S/PDIF to AURALiC's Vega which feeds the Clones Audio AP1/55pm pre/power threesome. The computer sends USB to the Vega. Despite five components there's still no headfi.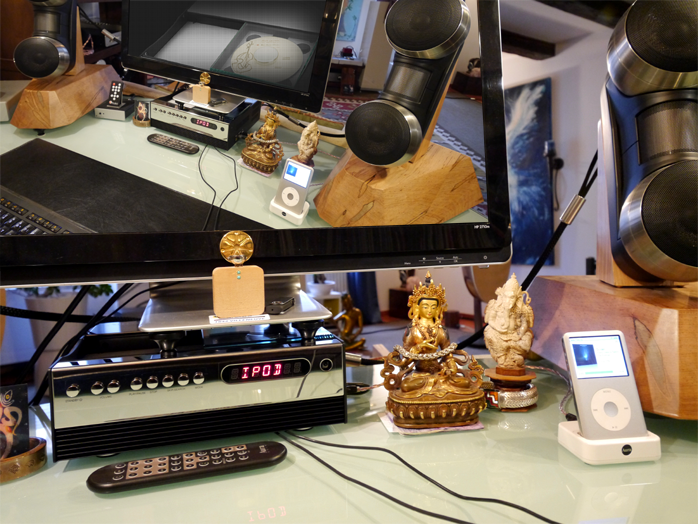 In this montage one box replaced five. For show I slipped in a passive iPod dock. Its 30-pin output connected to Simon's USB port with a length of braided ALO Audio cable. Since the remote handles an iPod's play/pause, stop and last/next commands simply aimed at the April Music deck, you can just as easily lay the iPod on its back out of sight.



A source with a combo 3.5mm/Toslink port like an Astell& Kern portable or a MacBook taps the optical input instead. Connecting a USB stick and setting the input to 'USB' not 'iPod' triggers the display to show track number and basic meta data including artist, title, file format and sample rate plus elapsed track time in ticker-tape fashion. Playing a USB stick is obviously limited to running through it in sequence or skipping around. But it's a very convenient and quick way to drag'n'drop a playlist from a main music PC or NAS and - er, stick it to the V2. To see a friend I dumped 6GB of sample tracks to my camera's 32GB memory card in both AIFF/ALAC and WAV formats. Using a plug-in USB card reader, the display instantly confirmed 66 tracks on the card and started to play the WAV versions. My data dump from iMac to card had automatically sequenced all tracks alphabetically and by number so V2 played through all tracks 01 first, then all 02 and so forth.


Playing off a 32GB memory card with SanDisk adaptor.