This review page is supported in part by the sponsors whose ad banners are displayed below




This review first appeared in the October 2012 issue of hi-end hifi magazine High Fidelity of Poland. You can also read it in its original Polish version here. We publish its English translation in a mutual syndication arrangement with publisher Wojciech Pacula. As is customary for our own articles, the writer's signature at review's end shows an e-mail address should you have questions or wish to send feedback. All images contained in this review are the property of High Fidelity or ARC. - Ed

Reviewer: Wojciech Pacula
CD player: Ancient Audio Lektor Air V-edition
Phono preamplifier: RCM Audio Sensor Prelude IC
Cartridges: Miyajima Laboratory Shilabe & Kansui
Preamplifier: Ayon Audio Polaris III Signature with Regenerator power supply
Power amplifier: Soulution 710
Integrated amplifier/headphone amplifier: Leben CS300 XS Custom
Loudspeakers: Harbeth M40.1 Domestic + Acoustic Revive custom speaker stand
Headphones: Sennheiser HD800, AKG K701, Beyerdynamic DT-990 Pro 600Ω vintage, HifiMan HE6
Interconnects: CD/preamp Acrolink Mexcel 7N-DA6300, preamp/power amp Acrolink 8N-A2080III Evo
Speaker cable: Tara Labs Omega Onyx
Power cables (all equipment): Acrolink Mexcel 7N-PC9300
Power strip: Acoustic Revive RTP-4eu Ultimate
Stand: Base IV custom under all components
Resonance control: Finite Elemente Ceraball under CD player, Audio Revive RAF-48 platform under CD player and preamplifier, Pro Audio Bono PAB SE platform under Leben CS300 XS
Review component retail in Poland: zł 42.000



The REF75 is Audio Research Corp.'s newest power amp introduced as the gateway into their prestigious Reference lineup. During my time with the unit it was not even listed yet on their website. Moving up the range one gets to the REF150, then the two top models of REF250 and REF750. REF obviously stands for reference while the numbers denote output power. Since these are exclusively valve amplifiers, such high power designates something other than SET circuits.



Indeed all ARC power amps are push-pull fully balanced designs wherein all stages—input, gain/drive and output—are fully balanced. The manufacturer's propensity for such balanced circuits which are inherently resistant to symmetrical distortion is manifested in the XLR inputs exclusively. Another characteristic is that the binding posts only accept spade lugs and bare wire. The normally open ends for banana plugs are clogged with non-removable gold pins. Finally the mains socket is designed for 20A-rated plugs which are beefier than the standard 16A kind and as such probably a bit of excess.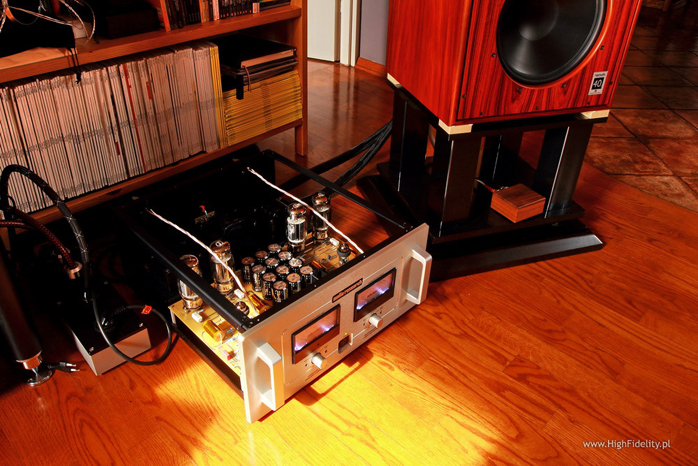 According to the manufacturer, the REF75 is housed in an enclosure reminiscent of ARC's older classic designs. The front sports two illuminated analog power/bias meters, one per channel. The meters are rectangular to remind us of days gone by. Below each meter is a knob to select between power output and bias monitor display mode. The outer dimensions of the REF75 are the same as for the REF150 amp. The front panel, handles and top cover are available in black or clear anodized.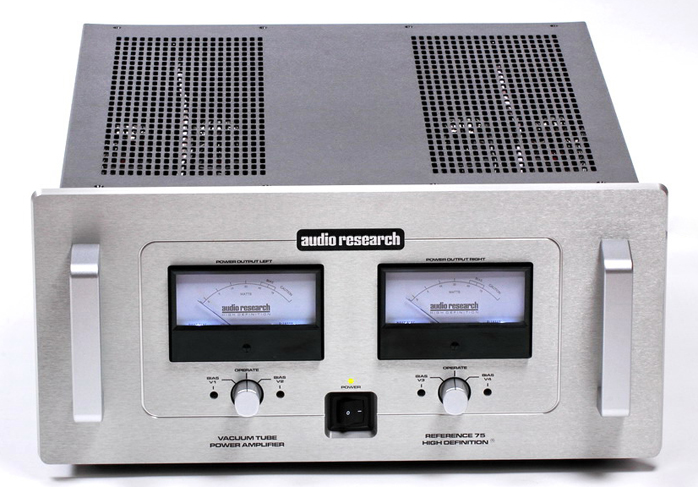 As it turns out, most of the circuit design deriveds from the larger REF150 sibling, the main difference being the number of KT120 output tubes. Here we get a pair of matched KT120 per side. This valve type is the latest Wunderwaffe in the tube world, an oversize variant of the 6550/KT88/KT90 beam-tetrode family. At this time New Sensor Corp. are the only ones to offer it. This is an American company with manufacturing in Saratov/Russia who market tubes under the Sovtek, Svetlana, Genalex and Electro-Harmonix brands. We met the KT120 earlier in my review of the Leben CS-1000P. The input stage of the REF75 is a hybrid solid state/tube circuit. That design was already used by ARC preamplifiers such as the REF2 and REF3. Each channel features a JFET input followed by a single 6H30 dual triode driver.


Sound. A selection of CDs and SACDs used during my auditions: Abba, Gold - Complete Edition, Polar/Universal Music Japan, UICY-91318/9, 2 x SHM-CD (2008); Ash Ra Tempel, Ash Ra Tempel, MG Art/Belle, 101780, SHM-CD (1971/2010); Assemblage 23, Bruise. Limited Edition, Accession Records, A 128, 2 x CD (2012); Carol Sloane, Little Girl Blue, Sinatra Society of Japan, XQAM-1036, HQCD (2010); Dead Can Dance, Anastasis, [PIAS] Entertainment Group, PIASR311CDX, Special Edition Hardbound Box Set, CD+USB drive 24/44,1 WAV (2012); Depeche Mode, Enjoy The Music....04, Mute, XLCDBONG34, maxi-SP (2004); Depeche Mode, John The Revelator, Mute, LCDBONG38, maxi-SP (2006); Frank Sinatra, Sinatra Sings Gershwin, Columbia/Legacy/Sony Music Entertainment, 507878 2, CD (2003)...



... Hilary Hahn, Bach Concertos, Jeffrey Kahane, Los Angeles Chamber Orchestra, Deutsche Grammophon, Universal Music LLC [Japan], UCCG-50058, SHM-CD (2003/2011); Hilary Hahn, Hilary Hahn Plays Bach, Sony Classical, SK 62793, Super Bit Mapping, 2 x CD (1997); J. S. Bach, Sonatas & Partitas, Henryk Szeryng, Sony Classical/Sony Music Japan, SICC 840-1, 2 x CD (1965/2007); Jean-Michel Jarré, Magnetic Fields, Dreyfus Disques/Epic, EPC 488138 2, CD (1981/1997); Miles Davis, Kind of Blue, Columbia/Legacy/Sony Music Entertainment, COL 480410 2, "Master Sound", Collector's Edition, Super Bit Mapping, gold-CD (1959/2005); Simone Kermes, Viva!, Archiv Production, 477 9843, CD (2007-2008); Tadeusz Woźniak, Tadeusz Woźniak, MUZA Polskie Nagrania/Polskie Nagrania, PNCD 1289, CD (1974/2010); Vangelis, Spiral, RCA/BMG Japan, 176 63561, K2, SHM-CD (1977/2008); Yo-Yo MA & Bobby McFerrin, Hush, Sony Music/Sony Music Hong Kong Ltd., 543282, No. 0441, K2HD Mastering, CD (1992/2012).



Audio files: Assemblage 23, Rain Falls Down WAV 16/44.1 Bruise, Accession Records, A 128, Limited Edition, 2 x CD (2012); Audiofeels, Sounds of Silence, WAV 16/44.1 Audiofeels, Uncovered, Penguin Records, 5865033, CD; Bob Dylan, Blowin' in the Wind, WAV 16/44.1 Bob Dylan, The Freewheelin', Columbia/Mobile Fidelity, UDSACD 2081, SACD/CD (2012); David Sylvian, World Citizen (I Won't Be Disappointed) + Angels, WAV 16/44.1 David Sylvian, Sleepwalkers, P-Vine Records, PVCP-8790, CD...