This review page is supported in part by the sponsors whose ad banners are displayed below


And thus ended my conversations with the designers and my scotched possibility of an unscheduled M100 review. My loaners sat patiently in the living room. Time to unbox. The packing of both sets was absolutely no nonsense. It showed shipping experience by being well thought out and designed to arrive alive: double cardboard; thick polystyrene up to 2" for the LFR1100; caps and inserts; secondary cardboard with glued inserts and compartmentalized polystyrene blocks containing solid aluminum outriggers on one side and rear speaker covers on the other. Simpler packaging for the M22v3 had double-thick outers and cardboard-reinforced polystyrene end caps. Fiber-reinforced packing tape and generous use of staples was the case for both. The LFR shipping box even had simple unpacking diagrams on the outside to avoid language issues. Niceties included outriggers (optional), standard threaded rubber-damped aluminum footers for hard surfaces and upscale Allen mounting hardware with key. For the M22v3 I got small adhesive polymer feet and a plastic wrench to tighten the binding posts, a thoughtful touch. Full color manuals with very detailed setup instructions came with both. The DSP box was packed to industrial caliber in an external double-thick cardboard with internal polystyrene clam-shell strip reinforced with its own thick glued cardboard shell. In short, tough and practical.



Basics. The LFR1100-HP is a floorstander of 47.5 H x 9.25 W x 17" D (1207 x 235 x 432mm) weighing 66lbs (30kg). The cabinet is ¾" MDF with 7 internal window-pane braces. Damping is terelyne synthetic fiber fill often called Dacron. Wiring is OFC copper. The front baffle has 45° raked edges along the full height of the left and right sides. Cabinet depth tapers from 9.25" front to 7.25" back to create non-parallel walls. Efficiency is 89dB/w/m anechoic. Due to the bipolar dispersion that becomes 93dB/w/m in room. Impedance is 4 ohms, power handling 10-400 watts. Response is 31Hz-20kHz +/-3dB with a -9dB spec at 25Hz. There are 11 drivers. In the front we get 2 x 1" titanium tweeters, 2 x 4.25" aluminum midranges and 3 x 6.5" aluminum woofers in a 3½ way configuration (my loaners had the long-throw HP 6.5 "woofers). On the rear are 2 x 1" titanium tweeters and 2 x 4.25" aluminum midranges operating as a 2-way. There is one Vortex front port and three on the rear.



The speakers come with premium 3/4" tall 1.5/8

th

Ø cylindrical metal footers with rubber base. Custom spikes are a $36 option. The bottom of the speaker has four threaded recesses. Spikes or feet mount directly to those but for greater stability Axiom offer thick black anodized aluminum outriggers available by selecting the 'Customize Yours' button on the LFR1100 product page. Rear panel binding posts are 5-way gold plated with plastic shroud. There are 3 pairs, one for the rear, the jumpered twins to biwire the frontal array. All mounting hardware front and back is black knurled Allen.



Stock finishes are Boston Cherry or black wood-grain vinyl. The quality of the vinyl is extremely high. The grills are attractive and practical. There are three separate front grills magnetically fastened and horizontally angled for a distinctive interlocking pattern. There's also a rear grill. At additional cost custom vinyl, real wood, gloss piano and custom color matching are available. The customizable nature extends to grille colors, hardware, logo colors and even speaker labels. Overall aesthetics are upper high-value tier and conservatively styled with luxury touches and subtle embellishments that make these speakers unobtrusive fully grill covered and attractive showpieces with their full driver complement displayed.



To optimize its omnipolar array this design marries conventional passive and active filter approaches. Although there is an internal crossover in the speaker, the LFR adds an outboard DSP box which further divides and processes the signal from a 2-channel input to a 4-channel output to mandate four channels of subsequent amplification. Axiom's use of DSP is confined to driver/crossover optimization and does not extend to interactive room correction. The designers concentrated on making the speaker work. Making the room work remains the responsibility of the purchaser.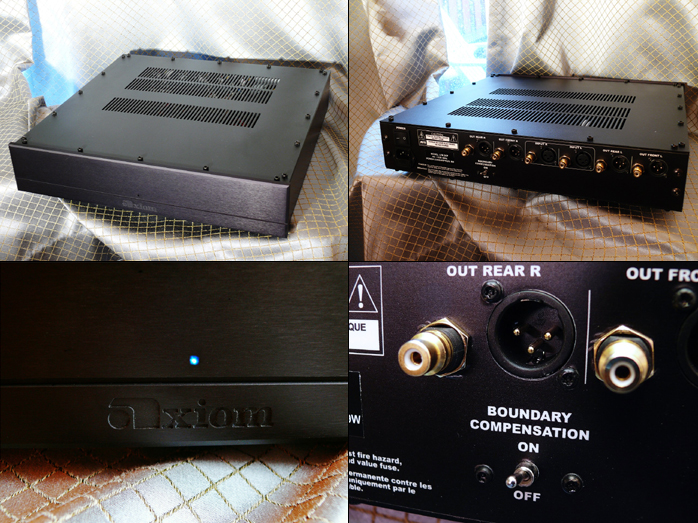 The DSP1100 processor (XLR DSP1100 version provided for review) is no lightweight affair. It's built with the heft and girth of a full-scale amplifier. It measures 3.5 H x 17.75 W x 16.75" D (88 x 450 x 425mm) and weighs in at 27lbs (12kg). Construction runs 3/8" thick anodized aluminum panels held together with plenty of black Allen bolts. The uncluttered fascia show a deeply milled company logo with single horizontal accent line and blue power LED. All functionality is located on the rear. There's an oversized on/off power rocker and the loaner had a choice of RCA or XLR i/o paths. To expand versatility the unit also sports the previously discussed boundary compensation switch.



Internally the DSP is laid out cleanly and continues the amplifier analogy with an oversized transformer in the power supply, an old-school approach in an otherwise digital universe where switch-mode supplies rule. Signal conversion is via 24-bit Sigma-delta ADCs and DACs @ 96kHz. Selectable 115/230 voltage makes for global compatibility. Even when it comes to the processor Axiom offer a number of options. The stock unit is single-ended. Mine added XLRs. Another option adds centre-channel outputs. For those seeking both power and DSP solutions, Axiom offer their ADA1000 250w/4-ohm multi-channel amp with built-in DSP. The most comprehensive model even adds a preamp.



The LFR1100-HP is the great white of Axiom's food chain, a big flagship bristling with ambition and huge flexibility of options. Any top product raises expectations of premium execution. Where would this leave the more modest little brother, the M22v3 monitor? Happily the M22v3 is very much cut from the same cloth. Dimensions are 19.8 H x 7.3 W x 8" D (503 x 185 x 203mm) with a weight of 16lbs (7.25kg). Impedance is 8 ohms with an anechoic 89dB efficiency. Response is rated as 60Hz-20kHz +/-3dB and -9dB at 50Hz. The power rating is a wide 10-250 watts. The driver complement is a single 1" titanium dome tweeter with dual 5.25 aluminum mid/woofers. The cabinet design follows the LFR1100 with 45° chamfered edges and tapered 7.25 front to 5.5" rear depth internally braced. Construction again is ¾" MDF with Terelyne damping and OFC copper wiring. A single Vortex sits on the back. Grill covers mount magnetically. Fit and finish are excellent. The vinyl wrap was flawless and we again have a vast amount of custom options from finish to woofer upgrades (cast vs. stamped basket). Stands and high-quality wall-mount brackets are available too. This wrapped up my superficial examination. 'twas time to assemble suitable review systems.