This review page is supported in part by the sponsors whose ad banners are displayed below




This review first appeared in the July 2012 issue of hi-end hifi magazine High Fidelity of Poland. You can also read it in its original Polish version here. We publish its English translation in a mutual syndication arrangement with publisher Wojciech Pacula. As is customary for our own articles, the writer's signature at review's end shows an e-mail address should you have questions or wish to send feedback. All images contained in this review are the property of High Fidelity or Octave. - Ed

Reviewer: Wojciech Pacula
CD player: Ancient Audio Lektor Air V-edition
Phono preamplifier: RCM Audio Sensor Prelude IC
Cartridges: Miyajima Laboratory Shilabe & Kansui
Preamplifier: Ayon Audio Polaris III Signature with Regenerator power supply
Power amplifier: Soulution 710
Integrated amplifier/headphone amplifier: Leben CS300 XS Custom
Loudspeakers: Harbeth M40.1 Domestic + Acoustic Revive custom speaker stand
Headphones: Sennheiser HD800, AKG K701, Beyerdynamic DT-990 Pro 600Ω vintage, HifiMan HE6
Interconnects: CD/preamp Acrolink Mexcel 7N-DA6300, preamp/power amp Acrolink 8N-A2080III Evo
Speaker cable: Tara Labs Omega Onyx
Power cables (all equipment): Acrolink Mexcel 7N-PC9300
Power strip: Acoustic Revive RTP-4eu Ultimate
Stand: Base IV custom under all components
Resonance control: Finite Elemente Ceraball under CD player, Audio Revive RAF-48 platform under CD player and preamplifier, Pro Audio Bono PAB SE platform under Leben CS300 XS
Review component retail: zł110.000 in Poland



I won't make this introduction long at all as the review itself is quite long already. I met Andreas Hofmann several times during the High End Munich show, the first time some 5 to 6 years ago. Each time we would exchange handshakes, I would listen to Mr. Hofmann's charming silky smooth very well-set voice and we would part again. I did not imagine even for one moment that one day I would review his very best preamp from the exclusive Jubilee line. The idea for that model, released for the company's round anniversary, was born in 1993. The design took five years and the linestage appeared in 1998. Then it took another five years to design the matching power amplifier. The set was only available by 2003, ten years past the original concept idea. Until now Andreas has not come up with anything better and there's no indication that that's about to change anytime soon. The linestage is a tube preamp with an external transistor power supply. There is no remote control.



Sound. A selection of recordings used during auditions: Paganini for two, Gil Shaham, Göran Söllscher, Deutsche Grammophon/JVC, 480 246-5, XRCD24 (1993/2009); Stereo Sound Reference Record. Jazz&Vocal, Stereo Sound, SSRR4, SACD/CD (2010); André Previn, After Hours, Telarc/Lasting Impression Music, LIM UHD 051, CD (1989/2011); Assemblage 23, Bruise, Accession Records, A 128, Limited Edition, 2 x CD (2012); Beverly Kenney, Beverly Kenney sings for Johnny Smith, Roost Records/EMI Music Japan, TOCJ-9731, CD (1956/2012); Beverly Kenney, Come Swing With me, Roost Records/EMI Music Japan, TOCJ-9732, CD (1956/2012); Depeche Mode, Ultra, Mute Records Limited, DMCDX9, CD+DVD (1997/2007); Dominic Miller & Neil Stancey, New Dawn, Naim, naimcd066, CD (2002); e.s.t. Esbjörn Svenson Trio, 301, ACT Music + Vision, ACT 9029-2, CD (2012); Händel, La Maga Abbandonata, Simone Kermes, Maite Baumont, Il Complesso Barocco, dyr. Alan Curtis, Deutsche Harmonia Mundi/Sony Music Entertainment, CD 88697846212, CD (2003/2011); John Coltrane, One Down, One Up. Live at The Half Note, Impulse!, 9862143, 2 x CD (2005); Kraftwerk, Minimum-Maximum, Kling-Klang Produkt/EMI, 3349962, 2 x SACD/CD (2005); McCoy Tyner, Nights of Ballads & Blues, Impulse!, IMP 12212, 20-bit Super Mapping, CD (1963/1997); Me Myself And I, Do Not Cover, Creative Music, 005, CD (2012); Pat Metheny Group, Offramp, ECM, ECM1216 422 817 138-2, CD (1982/1994); Portishead, Dummy, Go! Disc Limited/Universal Music Company [Japan], UICY-20164, SHM-CD (1994/2011); The Beatles, Rubber Soul, Parlophone/Apple/Toshiba-EMI, TOCP-51116, CD (1965/1998); Wes Montgomery, Smokin' At The Half Note, Verve, Verve Master Edition, 2103476, CD (1965/2005)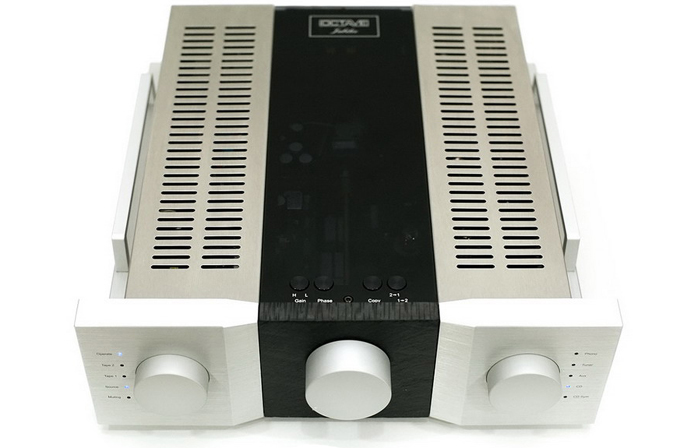 The Octave Jubilee is one heckuva preamp. I'm not only talking about its weight though that is quite hefty. I'm talking about the sound. It was the first preamp that in my system was simply superior to my Gerhard Hirt-modified finely perfected Ayon Audio Polaris III custom version. Perhaps this isn't 100% accurate as there are sonic aspects about my machine which I like a bit more but over time those aspects appeared to become negligible and  not especially important. What's more, the Jubilee was as good as the best transistor preamp known to me, the Solution 720. The Swiss solid-state machine shows how carefully designed hi-tech devices can do better here and there and that it is not just about silly talk over extreme measurements. I will not fail to later mention certain advantages of the 720. But overall the Jubilee together with the Soulution 720 remains the best linestage I know of. Even the fantastic Ayon Spheris II won't do everything as well and its presence does get more accented within a system.



One one hand the Octave is very precise at everything it does—exceptionally selective and definitive—while on other it is saturated, dense and slightly (but really just a tiny bit) tube-like too. It is also very versatile and cares not what type of music one throws at it. The characteristics I'm talking about will always be present and fully beneficial to recreating the musical event.



That's because this is a very natural sound. You cannot pinpoint a particular tonal balance because it seems exactly as needed. Tone color is less weighty than with the Ayon Polaris III but better saturated than with the Soulution 720. The lower midrange of three transistor preamps reviewed in our August 2012 issue of HighFidelity.pl—the Soulution 720, TAD C-600 and Avantgarde Acoustic PRE—was slightly conservative by comparison to lack some maturity and depth. Let's not exaggerate of course as this must be understood in the context of speaking about the absolute top end. These are all great machines but in comparison with my reference preamplifier whose lower midrange is fleshy and full of blood this became relevant. On the other hand all the tube preamps from Audio Research Ref5 SE to ModWright LS 36.5 and my own Ayon Polaris III slightly weighed down that range, seeming just a little bit sleepy. Overall the Ayon was best in this regard.