This review page is supported in part by the sponsors whose ad banners are displayed below





This review first appeared in the January 2013 issue of hi-end hifi magazine fairaudio.de of Germany. You can also read this review of Plinius gear in its original German version. We publish its English translation in a mutual syndication arrangement with the publishers. As is customary for our own reviews, the writer's signature at review's end shows an e-mail address should you have questions or wish to send feedback. All images contained in this review are the property of fairaudio or Plinius - Ed.


Reviewer: Frank Hakopians
Sources: Bladelius Gondul M universal player, Horstmann & Petter Ullysses turntable with Audiocraft AC 4400 and Horstmann & Petter Iason arm,Dynavector XV-1S and Denon DL 103 'Volpe' cartridges
Preamp

:

Melody 1688 II
Power amps: Tenor Audio 75 Wi and Mudra M 500 monos
Loudspeakers:Kharma Ceramique CE- 3.2, Gamut Phi 3, Tocaro 40b, A.C.T. AL 4x4 subwoofer
Power delivery: Accuphase PS 500V, isolation transformers from Steinmusic and Moll-Audio, AHP-Klangmodule, Furutech outlets
Review component retails: €4.500 for M8 preamp, .€8.200 for SA-103 power amp


| | |
| --- | --- |
| Unlike usual disagreements between hifi connoisseurs, asking about sonically best amplification tends to net valves and/or class A bias with surprising agreement. That I'm equally biased goes without saying. Any quick glance at my equipment list with its valve amps shows it. About class A bias I also ought to mention a long-term fling with two Omtec CA 25. And it got hotter still. I even owned the mono class A Small One from Green Wall. All this becomes relevant once we eye that unusual switch on the Plinius SA-103 stereo amp which together with its matching M8 preamp is on today's menu | |
</td>

That switch toggles between standard class A/B and nearly pure class A output stage bias, a feature already the predecessor had. Situated next to the mute switch on the front panel, this option with its promise of zero crossover distortion taunted me greatly. But even without this unique wrinkle the SA-103 cuts a very proper figure for a power amp – a squarish beast of occasionally finger-thick aluminium plates whose looks alone should have your lower back spasm in anticipation. The handles front and aft serve as - er, youthful reminders that these 38kg are best man-handled by two. Even then undue haste should be avoided. Whilst the massively filigreed heatsinks aren't as bloodthirsty as others which are honed to a cutting edge, careful handling and respectful distance are still best. Because my wife fancied it too, I better not go testosterone now and call this the essential he-man amp. But seeing how already years ago she settled down peacefully with my Geithain 901 speakers, her WAF compliance no longer qualifies as normal.



The Plinius M8 preamp requires no such respectful distance. Its Kiwi designers gifted it with a smoothly swooping if properly substantial fascia. U-shaped it swings around to the very rear for good solidity and the front merely features a big rotary knob and extinguishable display. Clearly the majority of possible commands require remote control. If any wand ever required a valid weapon's permit, this one is it. A rectangular extrusion of aluminum billet with fat round buttons, it exudes supreme confidence from the moment your hand wraps around its cool metal. With a respectable length of 25cm, even where's-the-remote career seekers like your scribe are finally cured of their sorry habit. Aside from the usual features of volume control, input selection, mute and display off there's also absolute polarity inversion.



Inspecting assets, both machines offer plenty of socketry. The M8 has six inputs, one with selectable RCA/XLR option, another with home-theatre bypass option. Outputs are on twin RCA and single XLR. The power amp also offers RCA and XLR inputs. Its central rotary switch decides which to make active and whether operation is stereo or bridged mono. Twinned pairs of WBT speaker terminals support convenient biwiring. Sadly EU compliance with toddler and pet safety meant that their narrow openings refused my NBS cables with very popular Cardas spades and StraightWire Crescendo. Only my Yamamura-Churchill M6000 finally accomplished the terminal handshake with these otherwise first-rate posts.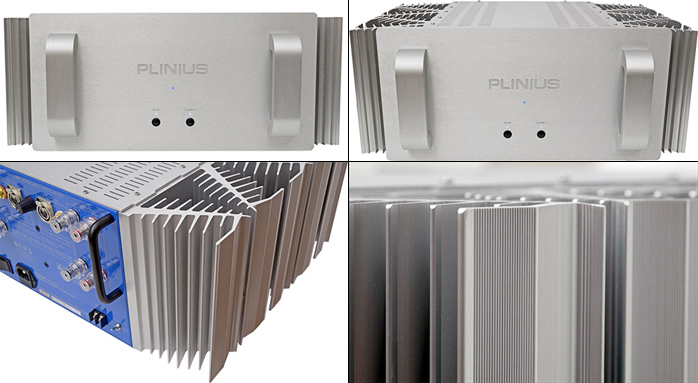 Before any listening commenced, I just had to pop the lid on the M8 which turned out to be shockingly thin. A graver contrast with the massive remainder of the chassis was nearly not possible. Even so later attempts to damp this thin sheet with sand bags or M pucks netted no audible improvements. Next my eyes fell on the discrete input stage. Unlike incoming RCA signal, XLR data are processed symmetrical until they hit the familiar motorized blue Alps stereo pot. The discrete gain stage exploits so-called dual Jfets. The generous power supply exploits a toroid which many an amp would call sufficient. A discrete secondary winding feeds the digital steering circuitry with voltage regulation to avoid signal-path interference.