This review page is supported in part by the sponsors whose ad banners are displayed below
The first-ever New York Audio & AV show rolled into the Waldorf-Astoria hotel this past weekend (April 13

th

to 15

th

), entertaining a smallish but fervent crowd of music lovers and gear heads. Exceptional music reproduction in a handful of rooms raised the bar well past the ordinary, with a couple of vendors like MA Recordings and Liberty Trading selling LPs and CDs which only added to the pleasure factor. A standout in many rooms were turntables!


If there was any doubt that the current high-end audio consumer is a vinyl aficionado, this show put it to rest. Sure there were CD players too—very expensive ones—but by and large they seemed hidden and out of the way. My personal bent for analog notwithstanding, turntables established a high presence on both floors of the show.
| | |
| --- | --- |
| In addition to exhibitor rooms, the show presented a variety of panels on each of the three days.  Such seminars as "Michael Fremer's World-Famous Turntable Setup Seminar", "The State We're In – Rebooting High-End Audio" and "Making Audio Reviews More Meaningful" provided the faithful with plenty to think about and hopefully apply. Fremer's presentation was followed by "I Want To Take You Higher – The Present And Future Of Digital Music Delivery And Playback" which was moderated by former 6moons writer and present AudioStream.com editor Michael Lavorgna, who commented as Fremer was closing up his analog wares with "some of you may see this as a symbolic event," eliciting laughter from the audience [master of all things public relations Lucette Nicoll at right]. | |

Michael Fremer



Andreas Koch/Playback Designs, Larry Ho/Light Harmonic, Rob Robinson/Channel D
David Chesky/Chesky Records, Michael Lavorgna

The show also presented live music from serious improvisers Attention Screen, New York singer/songwriter Amber Rubarth, jazz pianist Elio Villafranca, folkie Jessy Tomsko and vocalist Valerie Joyce. But on to the rooms that stood apart from the crowd. The challenge of getting good sound in a hotel room is a quandary for exhibitors regardless of venue. But when a handful of rooms produce excellent sound (often playing excellent music) you start to wonder whether it's really the rooms causing the trouble or rather a lack of knowledge in setting up equipment amid the vicissitudes of padded walls and plaster ceilings - or just poorly designed equipment, period.



"This was a tough room" Jeremy Bryan of MBL North America, Inc. stated. "We had to stuff the radiators under the windows with 700 copies of Stereophile and TAS which we were going to hand out to visitors. We built a cinder block wall on top of the window sills because the windows were set back about two feet taking away any treble that was left after the carpet, fireplace and silk padded walls had sucked it up. And we had some shipping damages to fix before setup."



Bryan's comment details the lengths some manufacturers will go to turn hotel rooms into listening rooms. Did I like the MBL room? I sure did. Its 360° sound was as lush, energetic and involving as a sweet woman in her wonder years. But the predominant sound at the show was one of plastic as though whiz-bang home theater dynamics and edgy colorations were all the rage. Listener fatigue was as omnipresent as some of the less than worthy music being played. A bluegrass instrumental version of Queen's Bohemian Rhapsody? But for every—in my opinion offensive—musical choice there was an equally uplifting selection. Gabor Szabo, Billie Holiday, George Solti, Alison Krauss and Union Station among others provided much musical richness to ward off the 'audiophile' fare that boomed across floors 15 and 18.


MBL North America, Inc showed two systems. What I heard was the Corona System Combination C: MBL 120 Radialstrahler speakers, C31 CD player, C11 preamplifier and C21 stereo power amp priced at a total of $48,600. There also was the Reference System Combination D of 101 E MKII Radialstrahler speakers; 6010 D preamplifier, 1611 F DAC, 1621 A transport and a pair of MBL 9011 amps clocking in at a recession-defying 1%-er gratifying $259.700.


Fitting in an audience from a line outside the door, the MBL room looked dark and felt cool, contrasting  the deep fast and pleasingly hothouse 3D sounds emanating from its sleek systems. With its dimmed lights and largely white-tint equipment the MBL presentation felt like an intimate church service. I only missed the incense. The 360° staging was very alive and quite natural. With seamless frequency response and relaxed sonics, the MBL room had presence in spades.

Robin Wyatt's Robyatt Audio was another room jam-packed with people not the least due to the appearance of a wonderfully restored pair of Quad ESL 57s. When Wyatt placed Joan Armatrading's Me Myself I on the platter of the OMA Anatase turntable, the Quads literally disappeared while delivering drums that struck and thwacked my ears with incredible force and liveliness. The naturally dynamic system consisted of the Quad 57s refurbished by Quads Unlimited (stock $5000); a pair of Miyajima Labs 2010 OTLs as 22-watt monoblocks ($10,000 each); Charles King ML LNP1 preamp (tape head pre and mono RIAA); April Sound Phono G-1 preamp with custom Dave Slagle external step-ups, $14,000; OMA Anatase/Lenco turntable with two Thomas Schick 12" tone arms, $1675; Miyajima Stereo Shilabe cartridge, $3600; Miyajima Premium Mono BE cartridge, $1260; and TEL Wire cables throughout.



In the High Water Sound room, Jeffrey Catalano had brought a sizeable LP collection and his impressive looking and sounding system was a highlight of the show with a TW-Acustic Black Knight turntable, $40,000; two TW-Acustic 10.5 tone arms, $5,500/ea.; Ortofon A-90 stereo cartridge, $4,200; Miyajima Premium Mono BE cartridge, $1260 ; Tron Telstar 211 SE amp, $40,000; Tron Seven GT line stage, $18,000; Tron Seven GT phono stage, $18,000; Cessaro Horn Acoustics Affascinate SE-1 speakers, $62,000/pr; all cabling by Pranawire; and racks and platforms by SRA.



Spinning Gabor Szabo's Bacchanal and later Egberto Gismonti's Sol Do Meio Dia, the sound was extraordinarily room-filling, warm, rich and totally relaxing, with stunning decay of Gismonti's guitar notes. There was occasional bass overhang but the overall sound was natural and a wonderfully immersive experience. One show attendee stated that while some rooms presented the audio equivalent of pornography, High Water treated us to actual sex! The Black Knight turntable's massive copper platter helped create a sense of perfect timing while the unusual wooden horns that thrust outward from the Cessaro Horn Acoustics Affascinate SE-1s no doubt enabled the rig's huge soundstage, effortless flow, zero fatigue and great warmth.



In the Audio Note UK room, David Cope with Audio Note UK owner Peter Qvortrup sitting nearby played glorious sounding LPs by Alison Krauss, George Solti (Glinka's Ruslan and Lyudmila), Alice in Chains and Count Basie (88 Basie Street). The sound was so pure and natural that I couldn't leave my chair. Dynamics were first rate, the music was rich, warm, enveloping and wonderfully fast. Like the High Water Sound room which I also loved, the Audio Note system was natural, full frequency, effortless and satisfying. No whiz bang effects, just an honest representation of the music. The system consisted of a Jinro Shochu 211 balanced power amp, $32,200; M3 phono preamp, $11,200; Dac 3.1x balanced, $10,200; CDT One transport, $4,200; TT Two Deluxe turntable, $3,650; tonearm Three, $2,000; IO1 cartridge, $4,250; S4L step-up transformer, $6,400; and ANE Lexus Signature speakers, $19,000/pr.



In Innovative Audio's room, a pair of glistening Wilson Sasha W/Ps ($27,900/pr) were powered by VTL MB450 Series III amplifiers ($18,000/pr) and the VTL 7.5 Series III preamp ($20,000) connected via Transparent cables. The sound was stunningly black and dead quiet in the - er, quiet passages. Hyper-reality was in effect during Sphere's Light Path LP spun on a Spiral Groove SG2 turntable, with Ben Riley's drums as full sounding and perfectly timing as I've heard from any speaker. Charlie Rouse's saxophone was soft, dark, oh so round and larger than life.  A dCS Puccini DAC ($18,000) handled digital duties but I didn't hear it. The Meridian/dCS stack looked impressive. Again, the sound was pure and timing perfect.



The tiny The Clue monitor produced super dynamics, room-rumbling bass and much hullabaloo in the Sjofn Hifi/Outreach A/V room. The Clue is manufactured in Seattle/WA, sells for $999/pr and was driven by the Hegel HD20 preamp/DAC ($2000) along with the Hegel H20 200wpc amp ($5750); Oppo BDP-83 BR/CD player, $499; Squeezebox Touch streamer, $299; Supra Swords speaker cables, $950/2m pair or Supra Quadrax speaker cables, $300/2m pair; Supra EFF analog interconnects, $165/1m pair;  Supra Trico digital cabling, $90/1m; Supra Lo-Rad power cables, $17/m; IEC/Nema plugs $24; and Supra MD06 power block, $240.  



Wes Bender Studio NYC presented the remarkable looking Redpoint Audio Designs Model MG SE turntable ($65,000) outfitted with a Dynavector DRT XV-1 cart ($5450) or a Transfiguration Phoenix ($4250), Tri-Planar Ultimate Mk VII-UII tone arm ($5,000) and the Zesto Audio Andros PS1 phono stage ($3,900).  Also on tap were a Viola Audio Laboratories Crescendo preamplifier with integrated DAC, ($19,000); Hansen Audio The Prince loudspeakers ($39,000/pr); Viola Audio Laboratories Forte mono amplifiers ($19,000/pair) and a Lindemann Audio 825 HD player ($12,500).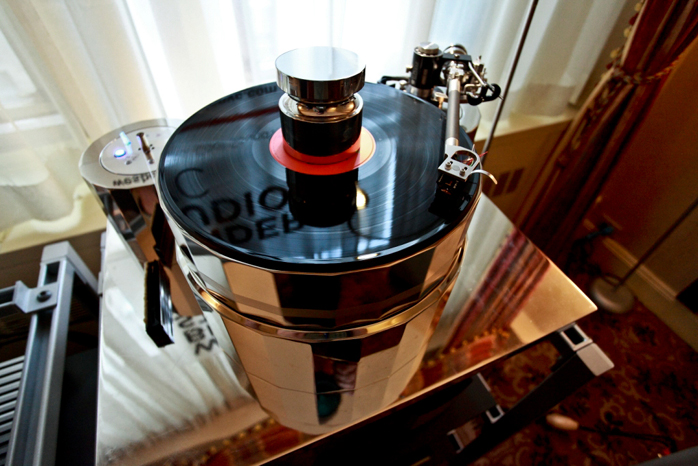 VPI's Harry and Mat Weisfeld brought an impressive three-channel system fired up from the analog get-go by the VPI Classic 4 with two tone arms ($10,000). A lovely lass helped steer followers to the VPI room. The 'modest' system here ran the VPI Traveler turntable and tone arm with Soundsmith Carmen cartridge, $1,750; VAS Citation Sound 1 preamp, $5,000; VAS Citation Sound 2 mono amps, 3 x $1,500; Aurum Cantus loudspeakers, 3 x $2,500; and assorted wire at $2,000 for a system total of $20,750. The 'all-out' system ran the VPI Classic 4, Classic 3 + HR-X arm combo with Soundsmith cartridges ($16,000) for the front end instead which upped the grand total to $43,000.



The New York Audio & AV Show was a great treat for us in the northeast. Hopefully next year more exhibitors will come on board and more great music will be delivered to a crowd more than ready for it. Well done!