Hi Srajan,
just a quick question I had regarding a speaker. I was wondering if you have ever heard the FAL flat driver speakers and your thoughts on them? BTW my friend Mike is loving his Job 225 amp, good call :-)  
Take care,  
Rod

I know the driver you speak of from press releases and such but have never actually heard one, sorry. Glad to hear your friend Mike is digging his new amp. It seems we're a month or so out from the global 115/230V model of the Job 225. This will give anyone so inclined a chance to listen to it. If I've ever felt missionary about a product, it's this. For the price it's wonderful and though it will go up to $1.695, that includes prepaid delivery to anywhere to remain a very fine deal.
Srajan
Hello Srajan,
Far & away you've got the best high end/high value site on the planet! For a non-nearfield situation, what's the best amp for the Gallo Strada II -  Aura Vita, Almarro A318B or W4S  mINT? The Vita & mINT would both allow a sub. Thanking you in advance & keep up the awesome work!
Best regards,
Steve Fink

The mINT or Vita would be my choices. If you elected to add a sub (I think you might), I'd favor the mINT since it's class D and class D is also what's in the matching Gallo sub (which I have). I found this combo to blend even better and it's what I run on my desk top. I've taken the mINT into the big rig often enough to feel certain that for this application it'll have sufficient power.
Srajan
Srajan,
Thanks for the thoughtful thorough review of the AMI DDH-1. I have a feeling this is one company that will manage to carve out some market share in a crowded and competitive segment. The one frustrating item in your review is the mention of the upcoming DDH-2 as there seems to be no other reference to this product in cyberspace! I'm considering purchasing the DDH-1 but the one shortcoming in the specification (for me) is the use of a potentiometer for volume. I'm wondering if the DDH-2's top-mounted volume wheel uses a different technology for volume control. Can you share any additional info on this product? 
Brad

I have no specs on the DDH-1 except that I'll get one for review and saw a preliminary rendering. Not sure why you object to a quality pot though. Would you prefer a chip-based solution?
Srajan

I would. Pots seem to get finicky over time (l tend to invest in equipment for the long haul). I live in a somewhat higher humidity environment which can exacerbate issues. Some folks tend to look down on the chip-based analog volume solutions but the higher quality ones are great to me. Then of course there are the non-chip stepped attenuators. Any idea when the DDH-2 is scheduled to show up? Also, thanks so much for responding!
Brad

I really don't have an ETA for AMI. They're coming out with two new units both of which they want me to review and I agreed. They'll trundle in 'whenever' I'm afraid to say. Nothing wrong with good chip-based control. Heck, even the mega-buck three-box Pass Labs uses one -:)
Srajan
Dear Srajan,
Firstly I want to congratulate you on a wonderful and very informative website. I pour over the articles and love the way reviews are written. My particular favourites are yours and Marja and Henk's. From reading your bio I think we have similar outlooks on life. I work with people developing their intuitive abilities so as to learn to trust their decision making and understand their ability to come from the spirit, heart and soul at all times. I love what I do and meet wonderful people. Anyway, that is going off track! I have loved music since early childhood, it was a way for me to escape a very traumatic early childhood and has always been a balm for me. So having good equipment to play it back has always been important. I am British, nearly 50 years of age and remember so well listening to reel to reel tapes back in the early seventies, my cousins and I so enjoying them. I had various home systems in the UK until I moved to Canada in 1999. My life these past 14 years has been very transient so my listening has been portable!

I have now developed a system centring around a HiFiMan HM-801 playing either wav files ripped from CD or 24/96 downloads. Headphones are Beyerdynamic T5P and DT1350, Etymotic ER4S or my particular favorites, Final Audio Design Piano Forte IX which are horn-loaded earphones and sound so wonderfully mid-centric and emotional. But the direction my email is going is the amp I purchased in January. Built and designed by a young man in Japan it is a single-ended battery powered tube amp. It uses 3S4 tubes for the power section and 1T4/U4/T4T tubes for the voltage gain section in pairs. Though portable it sounds more like a home-based amp, just a wonderful amp that drives headphones up to 200 ohms with ease and grace. Its ability to dig out detail in the recording is outstanding, the, soundstage is wide and deep and one can place musicians with ease and pinpoint accuracy. But all of this does not come at the cost of lack of musicality. It is such an entertaining amp to listen to. Hours pass by, music delivered with such effortlessness and grace.

I have no connection with the company other than being a very happy customer. I have posted a review of it on Headfi and there are but a few of us who own the amp, two new owners today in fact who are finding the same as I am, especially when rolling some vintage tubes to increase the sonic pleasure. To date 23 amps have been built and he has just added a smaller hybrid amp which uses two 1T4 tubes. I just feel this amp deserves a wider audience and I know you have an interest in the portable headphone end of things and thought you may like to have a look at this amp! Here are some links, to the thread dedicated to it on Headfi (I am ianmedium on there) also to my review and another member's thoughts on a couple of review samples he had and lastly to the website of the company.
http://www.head-fi.org/products/analog-squared-paper-tu-05b
http://www.head-fi.org/t/632518/analog-paper-2-discussion-and-appreciation-thread
http://www.analog2p.com

I do hope it is okay writing to you with this, I appreciate you must get hundreds of emails a week and I very much appreciate you taking time to read this one.
I hope you have a lovely weekend.
All the very best.
Ian

Thanks Ian. I've heard Ken Ball's battery-powered portable valve amp but as you surmised, wasn't aware of this one. Looks very interesting. I'm currently heavily back-logged with commitments to be solid for a few months but this does look like something I might take a stab at when things open up again. Gracias!
Srajan
Srajan
I liked the reference to Gurdjieff in a recent review... sounds like something he would have said. On the chance that you're appreciative of Gurdjieff, here's a link to an extremely rare film I find strangely moving. Enjoying the magazine as always.
Bill

The actual verbiage might have been more colorful but yes, it sounds like the perfect thing for a rascallion master to leave his disciples with. There's a fantastic book about Gurdjieff, from a Parisian bar owner completely outside his official circle where G.I. used to hang after hours and could vent about the inside crowd and show a very different face. The book was suppressed by the official party but at one time I managed to get my hands on a copy and very much enjoyed it -:).
Srajan
Hi,
Just curious: which tube headphone amp do you like better, the Balancing Act or the Studio Six? I know the former got your Blue Moon Award. It is also the less expensive of the two amps. Any thoughts would be appreciated.
Regards,
Mark Condon

That's a very good question. The Balancing Act hasn't been in-house for quite a while so I couldn't comment in any meaningful detail. But the price difference is very real - which is why the Studio Six didn't get an award. For that kind of money it also would need 2 x 3-pole XLR and 1 x 4-pole XLR to support balanced headphones. What I would say is that the Studio Six probably has the greater bandwidth and even lower noise = higher resolution.
Srajan
Dear Srajan,
Somehow our audio journeys mirror each other. My present speakers are TLS-II from HHR Exotic Speakers which remake Walsh-styled drivers. These are new and currently the only such pair though there are multiple TLS-I on the market. They use a single driver for true 20-20 bandwidth without crossover. I know pretty much what you are trying to convey with your review of the German Physiks.
Regards,
Vijendra Rao
Dear Srajan,
having followed 6moons for a few years now, it seems that I came across your magazine just in the right time to catch a 'change in the wind' in my taste regarding reproduction of recorded music (I ended up with a Teac VRDS 25x CD player into an Accuphase 406V  integrated into Dynaudio Compound 3 which I used for years). Having played guitar and playing the cello now (as a happy amateur), I always wondered—in non-technical terms—why it was so rare that recorded music sounded/felt like instruments played by actual musicians. Audiophile recordings never seemed the right avenue as they often sounded "overdone/hifi" to my ears or simply did not contain the music I was interested in.It may be old hat to others but I found your concept of "building the sound you like" really intriguing as it offers practical options – albeit based on doing the home work first (which is fine as getting there is half the fun, well, at least some of the fun). It also seems there is a broader range of building blocks for "the sound  you like" available than ten or more years ago when I stopped changing my system as well as reading hifi magazines. And at reasonable prices as well. Obviously this won't resolve recording, mixing and producing issues as these also relate to the sound someone likes, only at the beginning of the chain.

So thank you for pointing me at Zu speakers (Soul Superfly as Druids were not available for auditioning at home at the time) and Metrum dacs (Hex). It seems we are looking for similar things in music. As the Accuphase will retire soon I'm now trying out amps. From your reviews and posts in 6moons' feedback column I gather that W4S STP (SE) plus Job 225 might work well for me and the W4S will qualify as being built well enough not to create "DC problems". Any thoughts? I certainly would appreciate a quick response.
Beste Grüße,
Georg Beiertz

Hello Georg,
live sound is omnidirectional, hifi sound tends to be just forward radiating (though it turns omni by default in the low frequencies). Thus live sound has a far higher amount of reflected energy whilst hifi sound tends to favor direct sound. So live sound is rich, wet, redolent, dense and bassy, hifi sound is lean, dry thin and treble shifted. Well, speaking in gross generalities. Live sound can be terrible too and one can tune one's system to be quite different from 'general' hifi sound.

Zu speakers have a more vintage voicing which compensates for some of modern hifi ills. The Metrum Hex is big on timing and natural tone so that's a perfect fit with that aesthetic too. I find the Job 225 awesome but it's the antithesis of valve sound which many Zu owners fancy. The W4S works swell on the Job. I tried it. The Job even works well with a cheap passive like the $630 Khozmo I recently reviewed. With standard crisp-fried hifi speakers, the passive/Job front end would overcook things in the wrong direction however. With the Zus it would make a lovely balance at least for my tastes. I don't know the Accuphase to have a sense for how the W4S/Job would shift/alter the presentation though.
Cheers.
Srajan
Hello David,
Like you I appreciate B&O equipment. I have two 4400s and two 4002s. I have them teamed with Klipsch speakers. LaScala for the main system and Heresy for the back-up in the basement. Both the MMC20 CL and the MMC 6000 cartridges are fantastic! I strongly recommend the Klipsch speaker with the B&O electronics. They don't need excessive amts of power as most of the new state of the art systems seem to need. The beauty of the 4400 is its circuitry that eliminates intermodulation distortion. I have rarely heard their equal.
Jack Ford

Jack,
Thanks for your recommendation. I know big Klipsch like La Scala and Heresy are fantastic but I run out of space with 50 pairs of speakers in my house. I now have the 4002 partnering with Apogee Centaur Minor and it's unbelievable. I do agree with you that the 4400 is the best of the lot. It's driving my small Klipsch Synergy F2.
Cheers,
David
Hi David, 
I wanted to say thanks for your review of the latest (and intriguing) pair of Mark and Daniel wireless speakers. It was a great read. It's interesting to see the direction music distribution is taking with digital platforms like Google Play and Spotify and how speakers like the Jawbone bluetooth speakers, Sonos, AudioEngine and now Mark and Daniel are getting into wireless audio to make quality sound both more portable and more consumable for more people. I also wanted to ask you two quick questions if you don't mind:

First, do you know if it's possible to hook up a subwoofer to a Tripath amp using a speaker-level connection? More specifically the Kingrex T20U you reviewed? I'm currently using it to power my John Blue JB3's I have been in love with for 2+ years now but I've always wanted to add a reasonably priced sub such as the Glow Audio subwoofer. Obviously using the T20U's internal DAC as I do, my only choice is to use speaker-level connections but I recall reading a while back that this was a good way to fry a Tripath amp. Something to do with the lack of a floating ground? I was hoping you might have some insights here. Is it possible? Secondly, have you heard the new John Blue JB3F MkII or anything of them? I am such a fan of the JB3 that I can't help but be intrigued. The JB3 are basically my favorite speakers even though I have another pair of 'reference' ones and I'd love to know if this new model takes the JB3 sound a step or two further. My fingers are crossed that you're planning to review them sometime soon.
Best,
Akira

Thank you Akira. After checking with James Lee of KingRex, the Tripath TA2020 chip should never be connected to an active subwoofer through a speaker-level connection. Conventional amps have a common ground on both input and output (OTL or OCL). The speaker output signal is a full sine wave on (+) and ground on (-), which caters to active subwoofers. The TA2020 however features two independent speaker output signals (no common ground) whereby each channel (L/R) is a combination of top half wave (+) and bottom half wave (-). When these signals are connected to active subwoofers, distortion or damage is the result.

Most class D amps like NuForce have the same issue and their user manual warns subwoofer users to consult them first and not bridge l/r channels with a subwoofer. My solution for this is to use paired subs. I connect one NuForce Ref 9 SE monoblock to one Infinity sub's high level 'in' and then reroute from the high-level 'out' to the tweeter of my Apogee Stage. It's a bi-amped paired sub system. The woofer of the Apogee receives signal directly from the other monoblock. I have never applied the same connection method to KingRex T20U. Theoretically it should work. But I have a better solution. Take this opportunity to upgrade to the UD384 (plus U-Power) and use a pair of RCA Y-splitters at the analog output of UD384 to connect to T20U and the sub or subs. In that case you should be able to use one subwoofer although personally I always prefer paired. Originally the JohnBlue JB3F was on my schedule. Tommy Wu told me that it sounds very different from JB3. However, due to some personal reasons I have resigned from 6moons. Hopefully Srajan can arrange for another writer to take on the JB3F. Thank you for your continuous support.
David

Hi SE -
You got me buzzing to hear these HRS-120 units! The  super tweeters from Irvine, CA are the real deal. I heard them at the Newport Show recently and was surprised how the mids and upper mids really 'improved'.  It wasn't so much the super top-end octaves which for my ears that benefited from them. The designer agreed. Can't wait to see how all this shakes out for you. Enjoy the warm weather!
Regards
Dan Ellis

The tweets have been stuck in customs for a week so I should know more soon -:)
Srajan
Hi Srajan,
Just picked my amp from the Goldmund distributor in New York. It's now dead quite and sounds great. My understanding is that they cut one grounding wire and moved another. A 5 min procedure. Thanks again for all your work and support. When I picked up the amp, we listened to it driving $40K Vivid speakers with a Kondo preamp and some way overbuilt CD player whose name eludes me.The amp sounded phenomenal. The distributor said he'd have no problem demoing his equipment with the Job amp since it sounds just like the $100K Goldmund monoblocks. Same house sound. We had a long discussion about the fact that people interested in a Goldmund system were unlikely to be interested in a $1500 amp much like you eluded to in your review. I'm listening to the amp drive KEF LS50 which are also quite amazing. You might consider a review. They are also a giant killer.
Ze'ev

Agreed on the KEF but those honors have been done quite widely and well elsewhere already so there's little use to revisit the same theme once again. Interesting to hear about Bob Visintainer's feelings about the Job vs. super-costly Goldmund. Obviously you'd expect the big boys to have power supplies that could just about drive a dead short. But that the sound of the Job is definite family resemblance is good to hear from a man who'd know.
Srajan
I got my Metrum Hex this week and it is stunning so thank you. What is your favorite 300B amp or integrated?
Rodney Evely

With the proviso that I've a while back upgraded all my valve amps to transistors, first amongst those Nelson Pass' FirstWatt SIT1, I'd probably single out the Wyetech Labs Sapphire parallel single-ended 300B monos. That's a direct-sell Canadian brand run by Roger Hebert.
Srajan
Dear Srajan,
I was first to report the 60Hz hum problem with the Job 225 amp on the forums alias 'soundArgument'. Job/Goldmund initially were slow to reply by email and seemed to suspect, perhaps understandably, other noisy gear as source of the problem. Unlike some other user, I was never concerned that I'd be stuck with a noisy amp mainly because Amazon offers recourse for customers who receive defective products. This should offer reassurance to anyone else who got a defective amp. That's moot now because over the weekend Goldmund acknowledged that at least some of the amps have a problem with 60Hz hum. For me the hum was audible in both channels when both ICs were connected. Though not loud the hum had a lot of harmonic content and I was concerned about frying the spiral ribbon tweeters in my Genesis loudspeakers. Rather impressively Goldmund received my amp in Geneva yesterday, modified it and shipped it back the same day. I'm listening to it now in Cambridge, Massachusetts just a couple of business days after I sent it to Switzerland. The hum is gone and it sounds phenomenal. The outrage expressed by some other users of the JOB 225 appears to have been premature.
Yours,
'soundArgument'

Thanks for the note. I'm pleased to hear that you're happy with your purchase and had the initial issue resolved in record time. Goldmund really does seem to be a most professional operation and the remainder of the users with noisy amps will soon experience the same good service and see that their negative expectations about customer support were unfounded -:).
Srajan
Srajan,


Thanks to your review of the Bakoon 11R I could scale down in size and scale up in sound quality. I sold my KR Audio Antares and purchased the Bakoon 11R. It was a demo unit of the first version of the 11R (only 10wpc) sold by Michael Hollesen at Klutz Design. Perhaps the first unit in Europe?

In your report from the Munich show I read about the upgrade option to the 12R and that you had sent your amp to Korea. Do you plan to leave a note to the rest of the world about your impressions of the upgrade from 11R to 12R?


Regards from Sweden

,
Christer Lagvik

Yes and no. I'm due to return the HPA-21 headphone amp and at the same time will send back my 11R for upgrade. Soo-In reported they're just about getting ready in Japan where the modification will take place. That's the yes. The no is the absence of a comparator. An 11R will depart, a 12R come back. That's no proper circumstance for an educated incisive comparison. Using audio memory over a few weeks when my system constantly shifts depending on what I review... unless the change/improvement is of the double-over-and-groan sort where I can't help myself, I doubt I'll have anything truly useful to say. And just a "I think it was a good move as it strikes me as better" wouldn't really do the business -:)
Srajan
Hi Marja and Henk,
Thanks so much for writing all the great reviews on 6moons. Very helpful for those on the lookout for new gear! Just wanted to ask whether you had any thoughts on which you purchase given the choice at this very moment - the Phasure NOS1 or the Lampizator Level 5 / Gen 4? I've heard the following recently: AMR DP-777: New/100 hours burn in - highs are still shrill, dynamic with nice timbre, tonally quite correct with decent soundstage depth and width; MSB Analog DAC: new unit, fluid, little lacking in resolution, not much emotion; MSB DACIV Signature (no femto): loads of resolution, precise, soundstage depth not very deep, lacks emotion; Lampizator Level 4/Gen 4: run into single-ended tube pre instruments sounded amazingly real, soundstage was so 3D, full of emotion, sound was full/meaty, no top end glare yet all so easy to listen to. Looks cheap though!

At this stage I had my heart set on the Lampi L5 but now I have an audiophile mate in Australia who is telling me that the Phasure is the only way to go! Unfortunately no one local has a Phasure so I can't get a gauge on it personally. I worry that the Lampi may just be coloured and that I may eventually dislike that kind of sound...
Your thoughts when you have the time would be much appreciated.
Cheers
James

Hi James,
tough question! Here are our thoughts on this matter. For starters the Phasure is designed to go with the XXHighEnd software that runs preferably on a dedicated PC which only does the library function and via half a zillion of parameters all filtering to finally output 32 bits at 705Khz via USB only. On its side the NOS1 only accepts a USB input. The combination does not like preamplifiers and all volume control is done in the PC using a proprietary algorithm that prevents loss of sound quality. Using the software is not rocket science but it needs quite some attention and the author Peter Stordiau offers updates at an astonishing rate. Set and forget it is not!

If you don't mind a lot of fiddling and tuning/adjusting, the outcome is amazing. The biggest bummer is however the inability to listen to CDs any longer. They sound dull and lifeless on even the 'best' equipment. Only vinyl can compete with the XXHE/NOS1 combo. We do not have hands(ears)-on experience with the Lampi so we can't say anything about that. If the XXHighEnd software side of playback which lacks remote control and is full of other idiosyncrasies is more a challenge than barrier, you might ask Peter what possibilities there are in your neck of the woods,
/M&H

Hi Marja and Henk
Thanks for your reply. I thought you may have had the chance to listen to the Lampi but that is ok. Not many people have had the pleasure of listening to both so it has hard to find any relevant information. You make good points about the Phasure that I hadn't had the time to think about yet as I'm still trying to get over all the raving reviews on sound quality alone. Firstly I would prefer Toslink and coax inputs too and secondly as this would be the DAC that would share media PC duties, it wouldn't work so well without the filter for videos - unless I can get a good upsampler or so that could work with VLC (shouldn't be a problem). But I'm guessing if my better half decides to view a video on YouTube, we may get a nasty surprise coming through the speakers unless you get Windows to automatically upsample all. Hmm, more to think about.

I got that same feeling from the Lampi you describe with the Phasure - all other DACs seem quite lifeless. The sound has no meat on the bones and all seems so artificial even with the MSB DAC IV which I have on loan. Thanks again.. Will try to contact Peter and see if he has any solutions to the issues I have.
All the best
James
Hello Srajan,
I read with interest your review of the JOB 225 amplifier. Do you feel this would mate well with my MK4 Zu Druids connected DAC direct (via a passive volume control)?
Thank you.
John Signett

Absolutely. At present I'd simply suggest a short wait'n'see attitude as apparently seven new owners (this according to a forum) all experience the same minor one-channel hum. This is in stark contrast to my own unit or that of three readers who bought one without any noise whatsoever. But if 7 units out there misbehave in identical fashion, it either suggests a bad run; or a possible grounding issue that might require a minor circuit tweak to fix. In short, it'd seem silly to order a unit now and risk having to send it back for a fix should you too encounter this one-channel hum. I'd wait until the same forum posters report a satisfactory resolution for their noisy units.

PS: As of June 25

th

, Goldmund responded to the first US customer alert about hum as follows: "We are currently putting in place a procedure for returning the device for repair in the United States. A modification is needed to decrease the hum of the amplifier. Please send your device to our American distributor Rhapsody (Bob Visintainer, NYC) by Fedex Priority. Mr. Visintainer will take care of your unit and send it back to you as soon as the modification is done, all freight costs free, please use our Fedex account number."
Best regards
Srajan
Dear Srajan,
I just finished reading your review of the Vibex Three 11R and your comparison with the GigaWatt power conditioner and some questions came to my mind. I've been looking into power line conditioners or filters for some time now and I was thinking of the GigaWatt as the most likely option since reading your review, Wojciech's and Paul Candy's at PFR. All of them point at deeper tonal colors and more tangible images as the main assets which aren't so common in power conditioners or filters (the most common being the lowering of the noise floor). Also important is accomplishing this without the extreme relaxation which you found with isolation transformers for example.

The Vibex does seem like a very good option too, especially with the DC blocking factor that the Gigawatt doesn't have. I also know since I have read you for a long time now that the qualities you found in the Vibex are those which you usually prefer even over the deeper tonal colors and fleshier images of the GigaWatt I think I'd rank deeper tonal images and faster reflexes the same so I wouldn't know which one to choose.

However I found myself thinking what would happen if you put the GigaWatt after the Vibex? Would you get the advantages of both or would it be too much? Did you try it or at least thought of it? What do you think?
Regards from Mexico,
Juan Braham

Serializing the benefits is exactly what my amps see. There I put the single i/o Vibex ahead of the GigaWatt passive power bar to add DC filtering to all of the latter's outlets. On my source stack I preferred the big Vibex to the big GigaWatt so I didn't do the same there. There I left the big Vibex and took the big GigaWatt upstairs into our video system. You certainly could precede the big Giga with a Vibex. You simply wouldn't buy the big Vibex but just the single i/o DC filter called Two 1R. That would add the DC filter benefits to the GigaWatt 'sonics'.
Srajan
Hello Srajan,
I initially was going to post this under your "negative consumer feedback" section but after thinking about it I didn't want to rush to judgment before I had all of the details. This is in regards to the buzz or hum I get from the Job 225 amplifier I received four days ago. I am not alone. After investigating on one forum, I have  found I am one of  four people I know of with this issue. I and a few others have turned the amp off and disconnected one interconnect. When the Job is powered up again, the buzz is gone  with only a faint hiss (this happens with either the right or left  interconnect disconnected). Perfectly normal and acceptable. Someone else tried cheater plugs and grounding the chassis in  numerous ways with the same outcome.  I assume you didn't experience  this problem.

It's possible that Goldmund/Job produced a bad batch of amps. I was  on the fence about purchasing the Job since there is zero contact information on their site.  I contacted Goldmund today and told  them of this issue I and others have had. I'm worried that this is going to turn into a battle with Goldmund regarding the return policy/ restocking fee/ full refund scenarios I seem to be facing here.
Luka Kostrencic

You just contacted Goldmund today (Sunday) and already worry about battles? Calm your jets. Give the company a chance to make things right. Goldmund have been around for decades. I doubt they would have lasted if they didn't take care of business. And obviously I had zero noise issues or I would have reported on them. I had a special 230V version as described whilst I assume that you and the others reporting a buzz or hum on one channel have the 115V jobs. It's possible they had a bad batch as you suggested. Hence it's imperative they be contacted about it and given an opportunity to rectify things. Our negative consumer feedback page isn't about things going wrong. Shit happens. That page is about companies not taking care of customers when shit does happen and they've been informed about it and given opportunity to sort it out. It certainly requires a lot more than you've done by just hitting the forums before someone ends up on that page. You've bought an amp, you have the owner's manual with the company's contact information. Wait for them to reply and see where that leads. Incidentally two other readers bought one who haven't reported any noise at all.
Srajan
Hi Srajan
Thanks for the review of my passive Khozmo preamp. Generally Im happy with it but I would ask if it's possible to delete the review from your site? I really appreciate your time and work you put in the review. I think I have to first improve the product (Im working now on a TVC and LDR passive).
Best regards
Arek Kallas

You gotta be kidding! I put in my time & work to review your component as you requested. Now you propose I throw away my work because you're only 'generally happy' with my opinion? This not only shows little comprehension of the review process, it also shows little appreciation for another man's work despite your claim to the contrary. We don't write reviews then delete them again. I don't believe anybody else does either. If you want professional consultation that's for your eyes only, you'd pay an expert whose hearing you trust and admire. Then you can use that feedback quietly to improve your product. As soon as you approach a review magazine like ours however, findings aren't private but for the public. That's what we all do, implicitly and by design. And incidentally without any cost to you except for two-way shipping.
Srajan
I guess you were generally unhappy with his comment back :-)
That's the risk with folks who aren't true professionals. But that's also how you found some of the greatest nuggets of the past decade. Once in a while there will be a guy who doesn't quite get it.
Frederic

Quite so. I was simply rattled that for our all efforts to work in a clear and transparent fashion, this type of notion—delete a review a maker doesn't sufficiently like—could still arise. But given that this was only the second time in 11 years, I guess it's plain as day to everyone else that this couldn't possibly be part of the program.
Srajan
Hi 6moons,
this relates to Chris Redmond's teaser of the exciting looking Kingsound speaker. I can completely see how an individual audiophile journey can proceed from considering Magnepan speakers had "for a reasonable coin" via eBay auctions to being tempted by (an apparently used or demo version) of a $12.000 electrostatic speaker. His final judgment on the Magnepan brand has to be held to the standard set by his role of advisor and reviewer as well though. "After serious consideration and much research" (but no audition as far as I understand)  the conclusion arrived at seems to be that Magnepans have reliability issues, that no Magnepan can "realistically approach full range" and that their main redeeming feature is the "lauded midrange transparency" shared with other flat panels. My own assessment of the well-roundedness of the performance attributes of the 3.6s and 3.7s differs here but my primary point is not taste but the lingering suggestion of unreliability. This is an issue Kingsound seems to be familiar with, to the point of needing to make this statement on their site: "We have been advancing at a rapid rate when it comes to quality and reliability". I certainly hope so. Reliability is an area where most manufactures worth their salt would place a lot of focus and research including Magnepan. I would not discourage anyone from considering a recent version of their speaker new or used - from a reputable source of course. It is for good reason you would think that after being in business for over 40 years, they continue to be heralded as one of the major bargains in audio and continue to fetch good used prices. No association here, just a happy costumer reporting for duty. And yes, also a happy reader of your site!
Best regards,
Poul Eriksson
Dear Srajan Ebaen,
I suppose that this is 'for your eyes only' unless you think it's worth passing on. Having read your review of the JOB 225 my curiosity was more than piqued so despite the odds I contacted them first by email, then directly to the factory in Plan-les-Ouates. Lo and behold, I have just received a unit fully configured for our Swiss electric grid. I wonder whether we are two members of the class of all owners of JOB 225 in CH? I write this in light of the question whether the company will perhaps ease its restrictive sales policy. Is my case an exception I wonder? Trials will only begin later today as I am a little nervous about the gain/input/outputs etc and the DC coupling. The preamp will be the Parasound JC-2. I assume there will be no difficulty though the potentiometer will be way down no doubt. I am likewise running the fully configured Metrum Hex (mostly via a CD transport). One thing you didn't mention in your review—I think—was the time required to get this thing to sing – burn-in (assuming you believe in it). What has been your experience if I may ask? Well, that's it – a tidbit but perhaps within the greater order of things one not without some interest. With every good wish for you and your excellent publication,
Prof. E.M. Swiderski, Université de Fribourg

Ha. Be resourceful and multiply. Good for you -:) Goldmund/Job do burn-in at the facility and I added a solid week just to be sure. I think you'll be pleased by how it sounds pretty much out of the gate. There won't be any issue with your Parasound but yes, assuming you've got speakers of about 90dB efficiency and don't listen hyper loud, the volume control will probably sit lower than you're used to. Just how low also depends on its taper, i.e. how fast it comes on. I've not encountered any 'DC mishaps' other than the occasional little crinkling fart with my Nagra Jazz which I assume means its tube outputs leak minute amounts of DC now and again but all my solid-state sources (preamps or DACs) have been dead quiet.

Thanks for the note. I'll publish it. Clearly Job is Swiss enough to like money and facilitate serious sales inquiries regardless of country of origin. I'd have been shocked were it any different (what company engages in sales prevention?) but I was confused by their restrictive sales policy. I figured perhaps the low margins in this product eliminated any pre-sale support via phone or email, hence the Amazon-only sales outlet and a singular market to limit potential repairs/warranty issues to one area. If you feel so inclined, do let me know what you think of the amp once you've had some time with it - and by implication, how it compares/measures up to whatever amp/s you had before so I build up a little body of evidence against how pricey of the competition owners feel this one competes against. One other reader in the States just got one and is very impressed -:)
Srajan
Srajan,
I just noticed the following in your reply to another new owner of the Job 225: "If you feel so inclined, do let me know what you think of the amp once you've had some time with it - and by implication, how it compares/measures up to whatever amp/s you had before so I build up a little body of evidence against how pricey of the competition owners feel this one competes against." So, to help you with your body of evidence, here's what the Job 225 has just left in the dust as far as my own collection goes: the Modwright KWA 100SE and the Red Wine Audio Lilianas. Moreover, you have had first-hand experience with both so you know of what I speak! Now in my second week of intensive listening to the Job, I haven't looked back!
Rob La Barre

Hi Srajan,
I am just writing a short notice to say thank you for the great reviews you publish. I just finished reading the review of the Firstwatt F6 and really enjoyed reading it. So thanks! I have the parts for an F5 and F2 and the amp camp amp lying around and will build them over the summer. Reading your article inspired me further.
Have a great day,
Very best regards,
Jan Dyre Bjerknes

Hi,
Have you ever doubled back and taken another look at the F4? It puts out 25wpc, pretty healthy for a minimalist product and it's not too expensive. We hear a lot about passive preamps but this seems like an equally valid route. Some good preamps put out lots of gain so if yours is one, the F4 seems like it might be the way to go. I notice that it's still in production.
Paul Bujold

I don't double back years after the fact and ask a maker to send me a second unit just to check in again so no. Once I've reviewed a product, I should have said all I had to say about it -:)
Srajan
Kudos, pure and simple. I've just finished reading the FirstWatt F6 review. It's not only intelligent and articulate, it's helpful. As you may remember I own one of the very last Nelson F5s and now drive it hot rod with the original Nagra PLP using the blessed ganged input settings. In this configuration it matches the Nagra CDC-300p combo on my Tannoy Canterburys. Not bad for a 2000 buck sand amp. But the point is that your review helps me gauge the whys if not, as you quite rightly observe, the becauses.
Have a nice Sunday.
Michele Surdi from Rome

Given your location you're in a special position to appreciate Nelson's wizardry for getting there in so many different ways -:)
Srajan
Hello Srajan,
I'm thinking of purchasing the Job 225 and running amp-direct from my Metrum Octave, controlling the output volume in PureMusic. The Octave puts out  2V at 82 ohms. The Job's inputs are .75V and 51Kohms so I should be fine. Do you think this will be wise especially with the Job's DC protection issue? Please don't misunderstand me. I don't expect you to have all the answers regarding the do's and don'ts of the Job but since their customer contact/service isn't easily available, right now I have no one else to ask! As a former Bent Tap-X and Lightspeed owner, I was thinking of going passive but if I can remove a preamp and an extra set of interconnects from the equation and save myself a few bucks...
Best,
Luka Kostrencic

PureMusic uses dithered 64-bit math for its volume control so that in itself is a quality option. How much attenuation you'll need to invoke and whether a passive wouldn't sound even better particularly at low volumes versus high digital signal cut I couldn't predict. But assuming the Job 225 improves significantly over your current amp, you'll come out well ahead already and whatever final tweaks remain could be something to revisit when opportunity and coins arise.
Srajan
Cecilia, audiophile woman ...
Giuseppe d'Agata
Hello Srajan,
Thanks for all the good reading you guys give us. I have bought some things yo recommended and have been very happy. I am thinking of retailing some gear here in Australia as something to move forward with and enjoy. Not looking for a money-making venture, more the journey and enjoyment so niche type gear. No tyre kickers if you know where I  am coming from. So I'm wondering about the Aptica and Norma either in combination or separate. Have spoken to both and they are interested. Reviews available are in Italian which I can't read. How are your reviews going on both of these products?
Many thanks
Craig Johnstone

Don't have either yet. Norma has been ready to ship for 2 weeks but are struggling with accompanying paperwork to do a temporary importation and avoid two-way VAT. Albedo should deliver in person during a dealer visit to the Italian part of Switzerland. A Canadian hifi friend who imports Norma reports that their gear is ultra reliable, available (no extended backorders) and well supported by the maker so on that front it seems very solid already.
Srajan
Hi Srajan,
hope things are well with you. Just attended the local Newport audio show this past weekend and guess what I came home with? The Metrum Hex. For me it's always hard to determine what components or speakers actually sound like at a show so again I depended heavily on your ears  to help decide on something. Once again you've come thru with flying colors! In fact my first impressions at home are that there's an even bigger difference between Hex and Octave than dealers were telling me. This seems to be a very complete DAC in that it does everything superbly without highlighting anything. I think this makes it very natural and real. To me it's a bit like the difference between a matte finish and a gloss finish in a photograph or a plasma vs LCD screen presentation. There also seems to be quite an increase in dimensionality a little like tubes in terms of body but without their fuzziness if that makes sense. Can't wait to see how it sounds fully burnt in. Thanks again for sharing your insight and recommendations!
Take care,  
Rod

If you haven't already, spend another $100 or so and get PureMusic, then run it in 174.6kHz NOS upsampling mode and be even mo happy. That's assuming you're a Macist. Not sure what exactly the equivalent for Windows would be (JRiver, JPlay, other?). And if you're still spinning physical media - well, never mind. The Hex is swell also coming in AES/EBU from Cambridge Audio's digital-direct iPod dock. -:)
Srajan
Hi Srajan,
your review convinced me to buy the Job 225. It arrived a handful of days ago via FedEx Overnight and my music system hasn't been in the same league since. I can't thank you enough! Just a quick query though. Did you audition the Job 225 at all with the Bent Audio TAP-X? I am using the latter right now and have to wonder what could be improved upon, possibly more gravitas and then only as a matter of taste along the lines of—but not quite as much as—what my tubed hybrid preamp brought to the equation when early on I tried it instead. I read your subsequent addendum about the SOtM sDP-1000 being an ideal partner to the Job 225 in so many ways. Would you put the TAP-X on similar par if paired with a very decent capable DAC where the attenuation required from that DAC would cause too much of a sonic penalty if it were directly connected to the Job? Or does the SOtM sDP-1000 stand to bring even more synergy than my combination does?
Again, thanks for sharing what a game-changing bargain the Job 225 is!
Best regards,
Rob La Barre

I did indeed try the Job 225 with my Tap-X and the results were brilliant. The proviso is the before/after. Before would be the quality of your source (DAC) driving the amp, the after your speakers. My Gladius speakers have very good tone with their paper/banana Fostex drivers, Raal ribbon and very sophisticated crossover with costly parts. They don't need much help in the fullness department. If I precede that setup (Tap-X, Job 225, Gladius) with the Metrum Hex, things will get a tad leaner than they would with the AURALiC Vega. Having kissed valve amps goodbye, you could rightly say that I've graduated from their thicker fuzzier sound (or devolved) to prefer a quicker, more incisive lucid sound. Hence my contentment with the Tap-X/Job 225 combo. Exactly where on that scale you like your sound to be is a personal thing. Here I will simply say that for a passive the Tap-X remains a favorite. And having said that, I also bought the very expensive Nagra Jazz tube pre because it does things the Tap-X doesn't. From your query it sounds like you might want to sneak in right between the Tap-X and your tube hybrid pre - a bit more weightiness than you get from the passive, a bit less fat than from the tube pre. That suggests you know exactly what you want. The question then is simply how to get there. I'm afraid there I can't help from the distance. I would consider the Tap-X a perfect solution however to run a DAC whose sound you like which lacks analog or any attenuation. This would be true even for a high-gain 4V-type variant since the magnetic conversion of the autoformers becomes even more effective at low volumes/high attenuation.

Incidentally, you're far from the first reader to inquire about the Job 225 but you are the first to actually have bought one. I'm very pleased to hear you concur that it's the game-changing bargain I've claimed it is -:)
Srajan
Greetings.
First let me thank you for all of your excellent in-depth reviews. Your site is the top of the heap. I just finished your review of the Job 225 amplifier and have two questions. You mention that you believe it would be viable to use the Job with a DAC that offers attenuation. Can you take a moment and suggest a couple of low-cost/high-quality DACs that could work? Also based on your experience with this amp, could you suggest a couple of low-cost speakers that you believe would be a good match with the Job?
Thank you in advance for potentially saving me thousands of dollars.
Best,
Rob Lang

The feature you're looking for is analog-domain attenuation since you'll be invoking a lot of it with the Job's high gain. So simply research converters in your price range and pay attention to this particular feature. Speakers are far too varied on size, looks, room interaction and general voicing to make any meaningful recommendations other than saying that with the Job 225, you can buy anything you like. That's the benefit of sufficient power and unconditional control and stability. For once you needn't consider efficiency or impedance but simply shop with your ears, eyes and wallet.
Srajan
Hi Srajan,
I have just auditioned a J2 in my system. Who knew this kind of inner detailing was available from solid state? Quite exemplary! Makes me wonder now how much better/different the SIT-1s would be. My acquaintance Israel Blume who lives close to me (president/owner of Coincident Speaker) makes a nice DHT preamp using 101Ds. This may be a killer combo with the First Watt amps.  My only issue is the price of $2.800 for J2 vs $10.000 for SIT-1 monos. What else do they bring to the table sonically - an even greater sense of inner detailing and tonal color? The other issue is gain. I have 5 pairs of speakers in my house and the J2 really only had enough gain to drive one of them sufficiently. Would the SIT-1 monos have even less gain than J2?
John Sutton

Yes all around. Voltage gain is 18dB for the SIT vs. 20dB for the J2. On power it's 10 vs. 25 watts. But yes, the SIT is better. It's the best he's made yet in that range. A DHT pre would, I agree, be a lovely mate but the 101D is soft in the bass and ultra microphonic. It'll depend on exactly how it's been implemented. You might also consider the SIT2. Exactly the same specs as the SIT1, half the price, no adjustable bias, slightly less direct circuit and you'll never know the difference unless you compared side by side -:)
Srajan
Hi Srajan,
greetings from Prague. I'm big fan of your writing. One question I hope not absolutely irrelevant: Is there any similarity between Job 225 and BV Audio PA300 reviewed by you 10 years ago? PA300 seemed to be about low price and high level of neutrality and transparency as well. Or are there significant differences which prevail? I am asking because I am looking for matching amp for my warmish but quite agile speakers - Reynaud Bliss (89dB/4 ohm). Do you think PA300 would be suitable or should I wait for 230V version of Job 225 (if there will be such a thing')?
Thank you in advance.
Regards
Martin

As you said, 10 years... that's three countries, 7 homes and even more systems removed. Couldn't possibly comment on how those amps might compare sonically, sorry. Also am uncertain that company still exists. And how soon whether at all the Job 225 will go 230V is another big unknown so you might be better off contemplating other options.
Srajan
Srajan,
Just read the review on the Job 225...and it sounds like it's even better than the old one! You did an extremely nice job, no pun intended, at turning my encapsulated review into a real one.
Best,
Chris Mercurio

Hi Srajan,
Thank you for the great review on the Mad Dog. I think you really nailed it. I'm listening for ultimate pleasure more than comparative value. This morning I'm listening to Rostropovich's Bach Cello Suites. Perfect Sunday morning fare. If one adheres to the Western culture of worship on a Sunday, there is certain music that quite physically pulls the spirit up through the subway stops of your chakras and into calm awareness of all that is harmonious. At present Dan does all he can to keep up with demand. He's one guy and a family. He may begin selling kits as recently someone reverse-engineered his MD operation on-line (Dan was understandably put out). I've noticed how some manufacturers don't think carefully about who is reviewing their gear, don't look at how they have treated like gear in the past and so forth.  Interesting that the business of production and distribution has so little oversight as does the reviewing game. Hard to determine a standard.

In the news, Gallo is on my site and AURALiC is soon to follow. I'm looking forward to getting the new Bakoon gear. As I shared with Soo In, 'I don't know if it makes me unique or uniquely naive but soon you'll be able to listen to phones in my place with headphone amps from $249 to around $12,000." I'll have the HPA-21, the Crayon CHA-1, the Mal Valve, the EF-6, the AURALiC Taurus, the Sennheiser HDVD 800, Ear Max, Kingsound, hopefully a Hagerman Castenet if Jim is willing, the Trafomatic Experience Head One and Burson's line right down to an iFi Micro stack that is better than it has a right to be. Also a client is doing some beautiful one-off SET desktop headphone amp/integrateds that will be fun... oh and the Coincident Dynamo EL34 integrated/headphone amp. Given checks and balances I'll leave the Stax amps off the menu. Hopefully Roland will make an amp aimed at electrostatics specifically (his CHA-1 was largely voiced on the AKG-K1000). Right now the Mal Valve is amazing on them. Finding the best possible match for each will be the challenge.

For portable units I'll have the Astell and Kern AK120 and the HifiMan HM901 (talk about a waiting list). Even if one doesn't love headphonia, if ever there was a possibility to convert, this is that moment in time. The one last thing I'd love for the shop is that new measuring device so you can take direct orders for CIEMs from the store (it's like a balloon that uses lasers and is more accurate and less invasive than getting your ear filled with goop.)
Well, I've run on.  Hard to edit yourself when Bach keeps fugue-ing you along. 
ATB,
Fred Crane
Dear Srajan:
Thank you for alerting me to the Tortuga LDR preamp and the Job 225 amp. I have the analog portion of my system solved and for a universal player I am buying the Oppo BPD105. My hole is the transport/dac. I want to be able to use iTunes or Pure Music and stream to a player that does DSD as well as PCM. I also want something in the same league of performance as the Tortuga and the Job. I also have a lot of CDs and I would consider a better transport than the Oppo if you cared to suggest one.
Thank you very much,
Clyde Lindsay

I'm not sure I fully understand the question. The Oppo is a transport/DAC with USB input for a Mac and the ability to stream DSD from a memory stick. You can thus spin discs or import them to hard drive and stream them. There's nothing wrong with using iTunes set to error correction to rip CDs. We've made the comparisons. Keep it simple. Why get a 'better' transport? To spin discs? I've gotten out of that racket years ago to not really have an up-to-date reco. The small belt-driven C.E.C. is popular and not expensive. My favorite do-it-all DAC (32/384 PCM, 64/128 DSD) is the AURALiC Vega.
Srajan
Hello Srajan -
nice review on the Job, however they appear to not even have an e-mail address for contact. Have you noticed that? Makes it difficult to ask any questions about the amp.  Plus when I try to order one from Canada, Amazon rejects my order as I am outside of the USA.  If  this thing is as good as you indicate for the $$, it may be worth pursuing.  I have availability to a local First Watt J2.  Do you feel there are any areas where the J2 may be superior or not  (speakers are Coincident model, fairly efficient, i.e. low 90s)?  Also do you think the Job can be left on 24/7?
Thanks!
John Sutton

Their email is order@jobsys.com. At the sell price they probably don't have margins for phone or email assistance. If you buy one, the owner's manual contains the email address should you have issues. Sales presently are restricted to the US as my review explained so even being in Canada isn't good enough -:)
Re: 24/7, why would you? I guess you could, this isn't a toasty class A circuit.
Re: J2, that would have similar lucidity but a less crystalline somewhat softer overall character. It wouldn't match the Job's bass control but it also wouldn't suffer its high gain (which with your speakers could be an issue depending on your preamp's volume taper, overall gain structure and noise floor).
Lastly if you're using a valve preamp or plan to in the future - even my very costly Nagra Jazz makes the occasional little 'fart' or 'crinkling noise' as I discovered with prolonged use. This must be minimal DC leakage. With any of my transistor preamps this doesn't happen nor does it with the Nagra on any other amp where it's shockingly quiet. Since the Job is a DC-coupled design without DC protection, tube preamps could be an issue.
Srajan
Dear Mr. Ebaen,
At first sorry for disturb to you. I read your review about Job 225 amplifier. As I have 230V power, is it possible to order an amplifier with 230V I am very interested in buying such a good amp for that price. Was your review amp 230V or 120V? Many thx. in advance. All the best to you and more successful years at 6moons
Best regards,
Damir  Dafish

As the intro of that review explained quite clearly, presently the company only sells 115V units in America. To accommodate my review, they simply made a special 230V unit for Switzerland where I live. Until Job changes their marketing strategy however, you won't be able to buy a 230V model. Perhaps if you contact them directly, it could signal that there is interest in global sales to accelerate such a change in their policies?
Srajan
Hi Srajan,
thank you for the excellent review of the Job 225 (loved your reference to your socks). I've seen their on-line adverts on various audio sites and one always wonders if this is the real deal. I am always on the quest to find the biggest bang for the buck. I have Monitor Audio PL200 speakers that are very resolving but also a bit bright in the upper frequencies. I don't consider them robotic as described in your article but I have been considering something tube based to tame these tendencies while having something more powerful than my current 80watt hybrid. Given that I value resolution and detail, what would be a reasonable preamp to mate this amp with to achieve the euphonic attributes that tubes imbue? I know you mentioned Octave. Any other ideas on the budget end of the spectrum?
Sincerely,
Mike Stulken

Keep in mind the high gain of the Job (35dB) and its high input sensitivity (0.75V). If you go tube preamp, you'll want something with low gain (say 6dB) or a low-gain switch and be certain that it doesn't leak DC. The Eastern Electric MiniMax would be priced to suit but its gain is far too excessive for this application. I don't have personal experience with Rogue Audio and doubt they voice for euphony in the first place but they ought to have a preamp that's priced just right. Since you find your current speakers slightly bright—could be the tweeter, could be your amp—also remember that the Job is a wide bandwidth design. There's no HF roll-off or usual phase shift which could emphasize your speaker's voicing if, indeed, it's its tweeter you're objecting to rather than how your present amp interacts with it. One other related thing is perception. Better lower bass influences how we perceive the high end. With the Job's amazing LF control, there's a good chance your Monitors will sound more grown up than you know them to be down low. And that could shift how you perceive their overall tonal balance.
Srajan
Good morning Srajan,
thank you for the exciting review of the Job 225. I went directly to Amazon and got all the way to the credit card screen before I paused my purchase. I would be replacing my Modwright KWA150 which has upgraded input boards of the SE version. My question is, do you feel the Job 225 pushes the sonics forward over this confident Modwright amp?  I just received the very excellent Zu Message speakers which are Definitions without the inbuilt subs. Instead I opted for the outboard Undertone. I certainly don't need all the power or gain in the system I have. Quite good sound is available right from 2 on the dial of the Wyred4Sound STP SE preamp. In this context I also am concerned the gain on the Job 225 may be too high. 
Thoughts? 
Steve Miller

With my 4V Metrum Hex and the Esoteric C-03 set to 0dB gain, my 91dB Rhapsody 200 at low levels have me sit below 10 on the dial. So yes, gain is mondo. What forum commentators overlook with the hi-Z Zus (I published the plot on the Druid V) is that at 16 ohms, a transistor amp will deliver half its 8-watt rated power. And with the V's impedance hitting 50 ohms in the bass, that means very little power actually makes it to the driver where it matters. Now a more robust amp is a very solid idea. But I don't know whether the Message is 8 or 16 ohms. Your Wyred pre acts as a passive over most its range so unless you've got a hi-output source, you should be fine.

The big question really is sonics. Funny you should write in today. I'm contemplating putting my Modwright 100SE up for sale. The Job is even more lit up and direct and the only amp in inventory to grip my unruly speakers like a vise. That makes the ModWright somewhat redundant and I dislike having boxes around I don't use. I've not heard the big 150 in too long though. I only remember that I preferred the smaller SE to buy it and shipped the big boy back. The big SE I never heard. There I can't help much except to reiterate that compared to the 100SE, I'm thinking of doing a swap.
Srajan
The puns are getting worse. "...are closer to our Job description…". Had to bite my lip at that one -:)
Noel Prellwitz

Trying to have some fun whilst being on the same job for 10+ years -:)
Srajan

It is fun for me to read. Thanks!

Dear Mr. Soo In Chae,
In a response to Mr. Ebaen's review of your HPA-21 headphone amplifier you strangely remarked that you did not imagine owners of high-efficiency low-impedance headphones would be interested in your product. Yet excellent headphones of exactly that type are widespread from many manufacturers: Sony SA5000 - 70 ohm, 102dB; Sony 7520 - 24 ohm, 108dB; AKG 702 - 62 ohm, 105dB; Audio Technica ATH 1000x - 42 ohm, 100dB; ATH W5000 - 40 ohm, 102 dB; Denon AHD-7000 - 25 ohm, 110dB; Fostex TH-900 - 25ohm, 100dB; Beyerdynamic T1 - 60 ohm, 102 dB etc. The Audeze LCD-2 which you seem to favor is in my opinion a very colored inaccurate headphone which no one who has internalized the sound of actual unamplified acoustic instruments would find satisfactory (I play the violin and piano). You need to do some homework and optimize the low-gain setting of the current mode output to the real world.
Regards,
David Lantz

On page 3 of that review it clearly states at the bottom that "a few days after my email about the gain, he (Soo In Chae) had this: "I just wanted to update you that we made a quick fix which has lowered the low-gain level of the current output. With my Grado SR225 for example—not the most sensitive design but quite so at 98dB/32Ω—my 'normal' listening level with a standard 2V source now is around 12:00 to 1:00. This falls into the gradual range of the Tokyo Ko On and I believe clears your concern about the T5P or similarly sensitive 'phones. The fix was applied to all units we sent off today and I hope we've met more customer demands/situations with it"." The issue I talked of in that review thus seems to have been fixed already. And yes, with a broader inventory of various headphone loads on hand Bakoon could have saved themselves this quick fix altogether as it would have been obvious during final R&D -:)
Srajan
Hi Srajan,
It was great meeting you at the Munich HighEnd show. Talked to Vincent from TotalDAC and it seems I will get electronics from him. Marcin from JPlay who is a friend of mine also recommended the TotalDac DAC and reclocker. We both were at the Kaiser room for most of the time taking care of their servers. Marcin recommends the Ncore 1200 Mola-Mola amps. He said they are the best-sounding amps ever. He checked them with Kaiser Classics and the Totaldac DAC + reclocker in Regensburg with Rainer. I wanted to know your opinion about the Ncore amps. I see you reviewed most of the OEMs based on the Ncore 1200. Which one is best in your opinion?
Krzysztof Bartus, MD, Ph.D, Assoc. Prof.

I've in fact only reviewed the Acoustic Imagery Atsah monos. I've mentioned the Merrill Audio Veritas as alternatives but not heard them. Marja & Henk have commented on the Ncore 1200 OEM demo samplers but not heard the Atsah or Veritas. None of us have heard the Mola-Mola in our own rooms but M&H are scheduled for a review from the first production run. One assumes Bruno saved some tricks for his own version and his website indicates a few things. I personally plan to buy a pair this year and definitely want his as he is the designer. As a reviewer whatever I use becomes a quasi endorsement by default. I'd rather promote the inventor than OEMs who buy off the shelf and stick his stock modules into bling cases. In any case it's fun to see more and more endorsements about this technology come from various sources now. Bel Canto's new Black monos are the latest I've heard of. In Munich Bruno mentioned that Jeff Rowland is working on his own but with a different SMPS which squeezes the most power from his NC1200 board, i.e. more than his own versions.
Srajan
Hi Srajan,
I have recently purchased a second-hand of HifiMan HE6 and am stunned by the speed and transparency of these cans. I wish I had speakers with similar qualities! I like(d) my Gallos 3.5 a lot before I bought these headphones... I'm not really thinking of changing the 3.5 now but do wonder if perhaps you know speakers that paired with the right amp would get closer to the HE6 (Magnepans, Quads). I think the Gallos and other speakers I know are much closer to conventional dynamic cans such as Beyerdynamic or Grado. 
Thanks in advance for any feedback.
Ron Lee

Well, the HE6 are kinda Magnepans on your ears so you might check out panel speakers both magneto- and electrostatic to approach the HifiMan signature, particularly Sanders. But once you move the Maggies off your ears into the far larger cubic air volume of your listening room, they tend to get less dynamic and definitely less bass extended than what you're hearing now. The only way to overcome that is with size. Either your room is small and you sit close - or you need large panels. It'll also depend on your amps of course. The Gallos to my ears already have much of the speed of electrostats but they tend to like a powerful very quick amp to really show off that quality. And Maggies are even more power hungry.

At the end of the day you've discovered what I've said all along. Superior headphones go places most speaker systems can't if you subtract physical impact and overall scale of the soundstage to focus purely on the quality of the sound. Now you're in the position the followers of Gurdjieff were said to have found themselves in when their master died. He's rumored to have said "and now you're all screwed" -:)
Srajan
Hello Srajan,
I enjoyed your show report and thanks for the mention on the Avantgarde page. You've got to hand it to those guys, they work really hard. On Sunday evening they drove back from Munich with the Trio/Basshorn system in tow. Because of traffic they didn't get back to HQ until 1 in the morning. The next day they had to set up the system at their showrooms so all of us distributors would be able to listen to it the following day. Due to a truck break down the Trio system arrived back late and Armin together with some of the other guys had to work until past midnight on Monday after taking us site-seeing all day and entertaining us at dinner. They had it ready for Tuesday as planned so we could hear it in their fabulous new showroom. Anyway the factory tour and showroom visit was definitely worth it for all of us. It's a very impressive operation especially for such a relatively small company. I took a Lumix camera as well with some old Nikon glass via an adapter. Just a suggestion - why don't you shoot in RAW, then you could correct the white balance after the fact and avoid the blues -:)
Best,
Geoff
Hi Srajan,
Just wanted to say thanks for the masterful review of the Astell & Kern player. Delightful writing and most informative. For me the AIFF interface issues are a concern. My leaning is to put a portable player purchase on hold for now and see what develops in this area over the next 6 to 12 months. In the meantime an International DAC/amp is calling out to me and my Audeze LCD-2.
Best wishes
Ashley

Hello Srajan,
you may recall me mentioning that a customer of mine has leant me his Ncore NC400 based amp. He wanted me to try it on a variety of speakers and see what I thought. The results have all been very positive. I was not prepared for what I heard on the Saadhanas though. In fact they were the one speaker I wasn't intending to try the Ncore on, given Jacob's near insistence that only tubes be used. However my customer wanted to hear the Saadhanas with his amp. Guess what? I believe the Ncore on the Saadhanas seems to banish the few problems you mentioned. Most notably it's now possible to listen on axis without any trouble at all. Not that you'd want to listen on axis. It is an indication though of the very smooth top to bottom coherence obtained using the Ncore technology with Saadhanas. Of course top-to-bottom coherence is exactly what we expect from a widebander, though in practice there have always been some anomalies. The NCore seems to have the linearity to finally realise what these speakers are truly capable of.

Marja and Henk are definitely on to something. I don't know if you still have some Rethm speakers in your inventory. If you do, I'd really like to hear your opinion of them with some Ncore-based amps. I've urged Jacob to try to get hold of some Ncore as well. I think he should really hear what it can do for his speakers. Perhaps those problems don't lie with the speakers at all but are rather the result of speaker/amp interactions?
All the best,
Geoff

I'm Rethm and Ncore less. Bruno Putzeys' Mola Mola website still isn't live but I'd expect that by next week it finally should be to coincide with the Munich HighEnd 2013 show. Once his Ncore monos are commercially available, I want to get a pair. Seeing we've now reviewed all Rethm speaker models made, it's unlikely I'll get one through again anytime soon. But if I get some other widebanders, I'd certainly try them on the Ncores whenever my budget can swing a pair.
Srajan
Hi Srajan
Just purchased a pair of SIT1s and could not be happier However I need a new set of high-efficiency speakers. As you have considerable experience with Nelson's amps, can you recommend speakers?
Rodney Evely

In my space I can run down to 88dB speakers and not have any issues. The only exceptions are underdamped low-tuned ported bass alignments where the SITs don't have the control some muscle amp would have. From the Aries Cerat Gladius and Stentor to the Sonus faber Venere 3.0 to the soundkaos Wave 40 and Zu Druid V, there are many speakers that'll work just fine. At 11.5 x 5.5 meters my room isn't vast but it's not small either. I listen at around 3 to  3.5 meters from the speakers (lots of space behind me) and 95dB at the ear on peaks is plenty loud for me.
Srajan

Thank you. Have you heard any of the Audio Note speakers with the hemp woofers? A friend of mine has a $70.000 Kondo integrated and I swear the SIT holds its own to it. I was bloody shocked.
Rodney

Audio Note is a brand I have zero personal experience with, sorry. But I'm happy to hear you find the SIT to punch way above its price. That's my assessment too and I don't miss my former valve amps one bit.
Srajan
Srajan,
I have read your website for years now and just wanted to say thanks for all your group does. I have learned more from your site than any other I have read. Your writing style in particular is always interesting and engaging. Keep up the good work!
Ramiro Gonzalez
Kia

ora

Srajan.
I much

enjoyed

your review of the Aries

Cerat

. All we need now is a review of a well-crafted transmission line design. Is such a speaker still manufactured?
Cheers
Eric Cross 

PMC specializes in TLs as one company that comes to mind. In the widebander genre there are many which use hybrids that combine rear-horn and TL aspects. Sven Boenicke makes a very trick TL in his W10 model you can see here. I'm certain there are a lot more but I haven't tracked the breed to have a full list on hand.
Srajan
Hello Srajan,
just wanted to let you know that the Saadhanas are on my delivery van today. I enjoyed the review and read it a couple of times over. It elucidated for me what I've always appreciated about Rethms. They provide such great insight into musical performance. Jacob may be correct when he says people are generally more used to a speaker that provides the kind of reinforcement you get from amplification and/or room reverberation. This is what our discussion revolved around. In addition to enjoying music in the usual sense, those listeners who simultaneously enjoy unravelling how the music is being put together in real time are obviously the kind of people who really get the Rethm sound. This has been born out by the auditions I've given so far. There is a particular type of listener who gets that sound. And it's hard to see how this kind of listener could really live without a Rethm. Other speakers such as the Wave 40 may give a similar insight into the performance. Obviously though that would be at around double the price with the necessary sub addition(s). So the Rethms remain bargains for this kind of listener and at their price levels really the only game in town.
ATB,
Geoff Armstrong

I'd agree all the way around. I also think that your Audiopax amps will ultimately be more ideal than my SIT1s.
Srajan
Dear Srajan,
I have been following you and 6moons for several years and I just
love
that you focus on all those small cool brands that are a step—or five—away from the mainstream. Keep it up! My reason for writing is to thank you for reviewing the Zu subwoofer and to discuss and reflect on subs in 2-channel high-end systems. Too many hifi geeks will not even consider subs because they are not for 2-channel use and using them is turning a wonderful system into a boom box blah blah blah blah... Well, hearing is believing and some of us have heard something else. I write to tell how I use a sub in my system and that is slightly different from what you have been doing with the Zu. You keep the low pass f3 low, I keep it high(er). Why? Well, here goes. The first picture below is an older one just to give an idea about the room. This is an old house from 1889 that used to be a bakery. The top floor was the storage area for flour etc. Now it's turned into a nice living/listening room. It's not easy to see in these pics but the ceiling is an acoustical type meaning that even if the room is quite bare with minimal furniture, no carpets etc there is an atmosphere like if you are in one of those library rooms with books all around, thick carpets and so on. Maybe the room is even slightly on the overdamped side. I have restored this old house myself.
The downside of the acoustical ceiling is that the room does not really build up room gain. The ceiling is basically transparent at lower frequencies meaning that in the bass it's like a room with no ceiling or roof. Also, in the left side of the picture you see an opening to the floor below so there are plenty of places for bass to escape. My setup is diagonal as the picture tells, this was the only way I could get decent even sound in the room. Any other setup had way too much bass from my very full range and powerful Eggleston Works - Andra III speakers.So far, so good. I will write some more in between each of the pictures below
This is the frequency response at my listening position (no sub). The listening position is basically rotating that brown chair in the picture above. The red, gray and green curves are 3 measurements made in 3 slightly different positions at the listening position, minimum smoothing is used hence the 'rough' curves. But if you imagine them smoothed a bit more you will notice an impressively flat response. The main problem is a room mode at around 70Zz and that the deep bass below 50Hz is missing. Even if the speakers are very capable down to 20Hz, the sub octave simply and literally vanishes into thin air out of this room mainly because of the acoustical ceiling and the big opening to the floor below. What I have done is to build a sub not to get more bass but to use the sub as an acoustical room correction device. More to come
I use a Velodyne SMS-1 as the DSP-brain, and the measurement below made with the Velodyne mic and software confirms the measurement seen above. The Velodyne smoothes things over a lot, but you can still see the room mode at around 70hz and that the low end drops of.
Okay, to my solution! Let's discuss subs! Most of the commercially available subs are not really suited for two channel high-end systems. They are designed to go low in tiny small cabinets meaning that the drivers are very heavy, have relatively small cone area and long excursion. Then a huge amp is used to make them come alive. This is the Sunfire approach seen to at least some degree in many subs. The bass we get from these system has poor transient response because the heavy drivers can't really start and stop fast. Also distortion is relatively high because of the long excursion of the driver(s). Another problem with this approach is that the cabinets are often made very thin and with very little bracing. Again this is done to get the external volume as small as possible. The problem here is that the cabinets ring like a bell at resonance frequencies and these are well into the lower midrange. So imagine that the driver is fed a 50Hz tone, the cabinet will sing along' at maybe 300Hz - 600Hz. And in that region you can bet that the sub will be heard as directional and that the sound will be smeared! I have tried several of the ''high-end subs'' but not found any of them good enough so designed and built my own.
I use two Ciare 15" studio drivers. They have ideal data for the job and can be used in relatively small volumes. I have 120L net volume for two drivers. The drivers are placed in a so-called ''impulse compensated configuration'. Translated into plain English this means that there is a driver on each side playing in the same phase. This way the drivers cancel each other's vibrations and the cabinet is far more quiet. With this massive cone area the movement of the drivers is a few mm even at high levels meaning low distortion and since these drivers are designed to start and stop on a dime, the transient response is amazing.
The cabinet is made of MDF with an 'inner cabinet' of 19mm MDF with lots of bracing and assembled with a ton of screws. On top of the inner cabinet is glued a layer of 16mm MDF that is routed to size giving a nice finish and a good sandwich construction. I have used Class H amp + PS from a local company here in Denmark: Ground Sound. I feel that for high-end use the sound of a good quality class A/B or H amp with a strong linear PS is better than class D amps. The class H amp runs relatively cool so the big heat sink is not really needed. I just use it because it's a nice platform to build the amp + PS onto. Mind you the finish is still 'rough', some day I will get around to take it all apart again and have it professionally painted.
Okay, finally I'm getting to the point. Here you have my in room response at the listening position as my system is now. I have used the Velodyne software to 'pull down' the room mode at 70Hz and to fill in the low end. Amazing response and equally amazing sound. The Eggleston Works speakers run full range of course. The sub is connected from the preamp into the Velodyne SMS-1 DSP preamp. Signal from the output of the Velodyne feeds the amp inside the sub.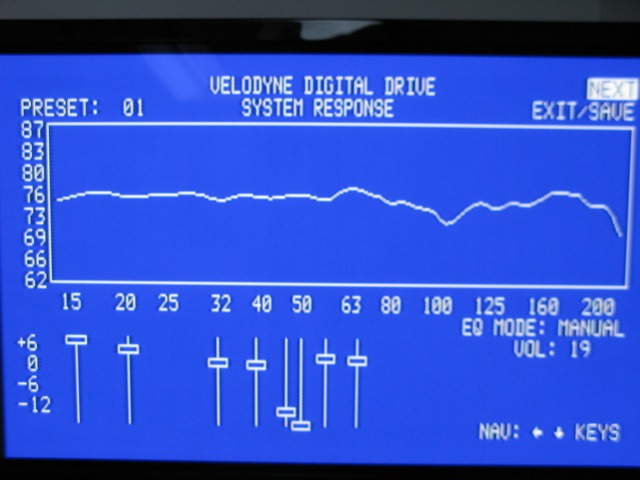 I use a low-pass at 85Hz/6
th-
order with the Velodyne doing the crossover work. I have also tried lower crossover points as you did with the Zu. This means the sub is used to 'fill in' below 40Hz or so and that also works but with the low crossover point the sub can't be used as acoustical room correction and that is where the hugh sonic improvement comes in. Getting rid of that room mode at 7Hhz makes a profound improvement of the sound from my system. When listening with the sub there is actually slightly less bass than with the sub muted because the peak at 70Hz is gone. So this is not to get more bass. This is to get rid of the smearing made by room modes and of course to fill in the sub octave. In my opinion getting rid of the room mode has a much bigger sonic impact than filling in the low end but of course a DSP brain is needed and it takes some skill to get an even response.
What I hear with the sub running as an acoustical room correcting system is a transient response I never had in this system before and not just in the bass. The improvement is across the range all the way to the top. Why? As a metaphor the bass is the foundation for the music and the better the foundation, the better the house will stand on top of that foundation. Hence improvements in transient response across the range. Similar improvements in both micro- and macro dynamics. Especially the improvements in micro dynamics make the music come so much more alive and make such a strong emotional connection. And the clarity and details. Where bass can easily become one-note there is so much detail with the sub taking away the smearing made by the room mode. Last night a friend of mine was here to listen to my system with the sub. He is one of those guys who has strong beliefs that subs are not to be used in two-channel high-end systems. I asked him to bring some of his CDs and LPs and he listened for hours. One one of his jazz trio LPs there is a solo with standup acoustical bass. When he heard that he could not help start laughing. He was so surprised that his reaction was to laugh and shake his head. What the hell is going on he asked me? He had never heard this transient response on that LP, so many details and so much 'life'. And he even has a system 2-3 times more expensive than mine. I think this is the biggest sonic improvement I ever made in my system and I have been a diehard geek for 30 years. Taking away the room modes with a killer sub with optimum drivers in a good configuration with a strong cabinet and high-end amp with a DSP brain in front is a turning point. I urge you to try it for yourself. If you can find such a bass system that is.
Cheers,
Morten
David,
Thank you reviewing something I have considered buying but have not pulled the trigger on because I was not sure of the sound quality. Things that I want to see in a wireless speaker with DAC is 1/, number of inputs so can I run an optical cable into it from Apple TV or Apple airport or PS3? 2/ does it have a good DAC i.e. would I be better off buying an outboard DAC? 3/ if using a computer to get audio, can I get audio and video at the same time without any lag from audio? All in all I am trying to see if this an end-all solution to our audio problems. Can we can forget about system matching, tube replacement, training family members about a year to use audio products, isolation racks for multiple separate products and have a rack system for preamp/amp/DAC along with a TV stand? The contenders include Dynaudio Xeo which seems to offer similar benefits but might not sound as good. Thank you again for taking the time to explain these things in detail.
Sincerely,
Yashaswi Belvadi. M.D.

Mr. Belvadi,
A remarkable pair of wireless active speakers will make life simpler for the entire family indeed. To answer your questions: 1/ Number of wireless inputs on the Opal-air4 is governed by the NuForce Air DAC which accepts up to four signal wireless sources  from iTX or uTX transmitters. For wired connection it accepts only one RCA source and no optical digital. 2/ The NuForce Air DAC is CD-quality bit rate. 3/ I have not tried streaming movies yet. I will certainly include that in Part II of my review. I suppose even if you do have lip-sync problem that you should be able to adjust that with the movie player software. I have not tried the Dynaudio Xeo and cannot compare. Judging from specs and price it's very competitive. Looking at the features especially the detached wireless transmitter that accepts three wired inputs (analog/optical/USB), it's a matter of what suits you better. 
David  

Hi David,
I've enjoyed your walk through the Opal-Air4 thus far. I'm further intrigued as having read most of your contributions, I believe our listening biases are aligned. Despite a perfectly healthy real estate practice, I began an audio business last year. We have since spoken to Loren about coming aboard as a dealer. All the requisite paper work is in place, I've just to make an order yet as we're leasing a space and waiting for some permit issues to be resolved before launching. The question that comes to my mind about the OA4 is whether or not it would serve well in a capacity for 'whole house' applications. For instance, if you had two digital outs on your dac or receiver, could you stream your digital signal to two sets of four speakers thereby creating zones? I suppose relative effective distance may be an issue. The other thought would simply be using a number of Apple Air Dacs and creating zones that way. Of course the most interesting point to me thus far is the increase of fidelity based on being strapped to purpose-made chip amps. The only retail impediment I see is being left out of the number's game where scaling to hi-def heights is concerned. CD quality is almost frowned upon in some circles despite it being what we listen to more often than not. Thank you for your review thus far and I'm looking forward to the latter half.
Fred Crane

Hi Fred,
It's a relief to know that at least two biased minds think alike. I have to admit that the Opal-air4 as a wired analog active speaker is the best of its kind. I believe it's the wireless part that constitutes your retail impediment. The Air DAC is CD-quality bit rate. That's a major drawback in the hi-res world. The transmission range is governed by the line-of-sight rule. Out of sight, out of range. I've tried moving the MacBook Pro with uTX to a different floor and the interference noise was unacceptable. It has to be on the same floor in the same room within line of sight. Then I get perfect reception. Creating multiple zones is possible as long as you move your signal source to that zone. Sharing the same signal between two zones will be challenging. I'm only just scratching the surface of wireless fidelity. It appears to me they are two different concepts. The Opal-air4 and NuForce Air DAC are basically catering to an active speaker system serving up to four wireless sources whereas other wireless streaming solutions aim at one signal source serving multiple zones.
David

Hi David,
Thanks for clarifying your last point. As per our listening biases, before I ever read your reviews I had your Apogees, Loth-X monitors, Trends and Virtue amps (lost the chip amps to the family).  Now I'm just short your grand piano and some M&D speakers. It would be interesting if M+D offered the Opal with or without streaming. I would love the option of just going balanced out of my Hex or Wadia DACs into the back of a simply active non-dac Opal. Another interesting option might be using the Sonos format. Stream music to the Sonos Connect amp and use the coax out to the Opal Dac - but it has no digital input so you'd have to go line level out of the Connect which kinda defeats the purpose. Just thoughts.
Fred

I'm sure Daniel has given serious thought to his marketing strategy before he decided to go with what he put in the product. To choose between give and take must have been difficult. The Opal-air4 is designed for those who want something simple and beautiful: a computer or iPad and a pair of speakers. That's it. Once you start thinking about hi-res, you're back to the old audiophile route. Until NuForce comes up with something more powerful in transmission range and bit rate, I am addicted to the simplicity of the Opal-air4. Having said that, it did cross my mind that what if there were an Opal-air4 sans Air DAC but with two or more analog inputs, RCA and XLR?
David

Srajan,
Been a reader since you started 6Moons. Live in Seattle. In May will be buying Gallo Reference 3.5 speakers. Putting them in 125-year old former church that was converted to a residence 20 years ago.  Large open plan 1500 sq ft main floor with 25 foot ceilings. Will use as 2-channel audio and 2-channel output for tv.  No 5.1 or 7.1 home theatre planned for. Music types: jazz 70%, classical 20%, pop rock 10%. Sources I will be buying: Oppo 95 or 105; Apple TV for Pandora streaming and movie; satellite TV receiver for tv. I have Melody KT88 integrated with Evolution MMMicroOne speakers for my primary residence in the den which my wife does not use for listening to music. For the church/house my wife will be using the main stereo a lot so looking for easy-to-use setup that I can plug the above sources into and she can easily switch between sources and have the system work.  Plus want the integrated to be good enough for Gallo. Budget is max is $3,000 retail for integrated with digital inputs or integrated amp plus dac. You reviewed both of following and appreciate getting your comments on which may be better: Bel Canto 5, Wyred4Sound mINT. Other suggestions?
Thanks,
Ken Deering

Given your 8m ceilings which compound the cubic volume the speakers will have to energize, I'd be thinking about more power than the mINT puts out (which is better than the equivalent BCD). I'd look into the W4S mTRIO I recently reviewed. It comes in right at your budget, gives you two powerful mono amps and a fully balanced preamp with an upgraded front-end version of what's in the mINT. If you need an integrated, the Peachtree Audio Grand X would be equivalent but cost you $1000 more.
Srajan
Reading the recent review of the M&D Opal-air4 reminded me of the early days of Tripath, D amps and even computer music servers. What a great idea. Why aren't we seeing more of these little T+D active speakers? Okay, not enough power for the big-boy towers yet. And I'd want an easy bypass switch so I could use my existing rig.  But not only does it make for greater flexibility, it allows the designer to fine-tune the speaker's voice to get the best possible sound out of it. If I was a cable maker this would scare the shit out of me if it became a trend.  Who wouldn't like to stop buying funny twisted wires for 100s & 1000s of £¥$. And what about amp makers? Maybe they should be getting into the speaker business? I have noticed a number of speaker makers adding amps & DACs to their lineup.  If the Internet era has been all about disintermediation—cutting out the middle man—the future is a computer + wireless DAC + wireless active speakers. Oh, and some room correction software like in your Emerald Physics review (hum, any similar products popping up in 2013?) to eliminate room distortions and the need for bass traps. Maybe we will have to wait for Apple to package something like this to create enough demand from all those iPod babies who are old enough now to afford better-sounding audio. That would shake up high-end audio.
Kevin Teixeira (long-time Srajan & 6moons fan)

I think this could be a bit like the right to wear arms. Whilst most folks are probably better off not owning a gun, US legislature insists that you can. Audiophiles insist on the right to pick 'n' choose though most would get better results if passive speakers were outlawed and active speakers with electronic crossovers, built-in linearization compensation and some basic adjustments the only game in town. Whenever audiophile reviewers cross paths with active speakers (mostly from the pro realm), they're invariably shocked by the performance gains. Yet the market at large doesn't respond. Will Dynaudio be successful with their new wireless active boxes? It remains to be seen. As a concept it's eminently practical but if we've learnt anything about audiophiles, they don't value practicality very highly if at all. If inroads are made, it'll probably happen in the 'lifestyle' sector -:)
Srajan
Srajan,
Very much enjoyed reading the various installments in the Zu Submission review. I may be wrong but your comments represent the first positive endorsement of The Subwoofer as a hifi genus that I can recall coming across in all my years of trawling through reviews, in print and now online. Typically outside Home Theatre and Car Audio magazines, the poor beasts seldom get more than faint praise of the 'well, I suppose if you must...' variety. So very interesting to hear you firstly talking up the main speaker + sub combination in principle and not just as a compromise or lesser of two evils; and secondly for stating the widespread suitability of a sub of this quality with many speakers, not just those from the House of Zu or those obviously lacking in bass.

If I read you correctly, your positive comments are probably restricted to 'true' subwoofers that don't try to cover too great a frequency range. In that regard, how low do the main speakers need to be able to go by themselves to work well with a single Submission? Most of your review dealt with it just filling in the bottom octave with speakers that are by themselves comfortable down to 50hz, but presumably with a different filter setting and more bass-challenged mains it could attempt to do more. Would it still be anything like as successful with something like say the Acuhorns?  Lastly, when I read sentences like 'With this active and flexible giant I hands-down had the very best bass I've ever enjoyed in 10 years on the job' I rather thought the review might have a Blue Moon conclusion. Maybe you are waiting till you've heard it with more partners or maybe I just misread the positivity of your comments.
Mike Mill

I've deliberately avoided the usual 80Hz THX-style sub/monitor combo because my own experience suggests that the vital upper-bass range should be reproduced in full stereo and from the mains. And that requires ~55Hz reach from the mains which leaves the sub more or less only the first octave since none of their filters are steep enough to be more surgical. When used like that, mono bass in a room my size (5.5 x 12m) works exceptionally well. So yes, this requires a true subwoofer and speakers which are merely short the bottom octave. And we don't give out awards for unfinished reviews which this still is...
Srajan
It seems Wojciech has found the virtues of widebanders but I agree with your publisher's comments in his Acuhorn review. So much praise for a speaker without useful output below 100Hz seems a little over the top especially at that price. My 25-year old Rogers do a solid 70Hz (and drop like a stone below that) and cost half. Or the new baby Kef at a third of the price as well and its midrange performance is far from lacking. I was puzzled by the lack of reference to his Harbeth standard too. This is as far removed from the widebander sound as can be. And no SET either to really get extreme. As you know, a P/P circuit even with tubes may or may not be a good fit for speakers like these - it's really hit or miss. My own experience with bass boost on tube P/P says that what you gain in dB you lose in resolution through quickly increasing distortion. At least that was the case on my McIntosh and every time I tested the feature on Leben amps during demos. Anyway, I am glad he tried but this leaves me no wiser on what to expect from the Acuhorn with the exception of no bass to speak of :-).

Didn't you review a former model of theirs and weren't too impressed?
Frederic

I did and affirmative too on my opinion. It's admirable that Acuhorn pursue their own driver development. I appreciated their attempts in this project at 'violin making' but was surprised to then see the use of laminated woods. Who'd make a violin out of Plywood? The tonewoods Ocellia and soundkaos use actually complete the 'musical instrument' approach and work just as one would expect. I also think Acuhorn's current insistence on a single driver will eventually give way to what others are already doing - augmenting their widebander of choice with either a tweeter or bass driver to overcome bandwidth limitations modern music won't tolerate.
Srajan
Srajan, there is an ambiguity with this review. I assume the sound of the AURALiC Vega in this review is based on the addition of the Nagra Jazz preamp, which isn't explicitly explained. In fact you say the sound of the Vega direct..."sounded stripped, stark and flat. Audible space and all its connective tissue had collapsed and all prior tonal and textural elegance abandoned." From what I can see, this rave review is based on the inclusion of a $10K+ preamplifier.
Jeff

That quote is out of context and culled from the paragraph on running the Vega as a preamp at very low volumes. I clearly stated that normal room volumes meant the display sat between 50 and 60 to imply -40 to -50dB of signal cut. Your quote now pertains to listening well below that. That's when adding an expensive preamp was significantly better just as AURALiC themselves predicted. I don't think there's anything ambiguous about that. Steep digital attenuation to the tune of -70dB or -80dB just doesn't sound as good as doing it in the analog domain regardless of whether with a cheap or expensive analog preamp.
Srajan